Will Ferrell Wrote And Filmed A Bunch Of Old Milwaukee Beer Ads For Free For Some Reason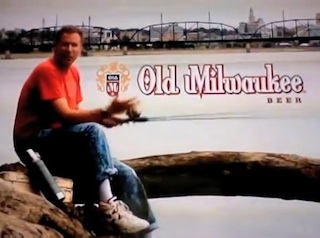 When you're one of the most recognizable comedy stars in the country, there are a lot of things you can't do. For example, you can't walk down the street without people looking at you. However, there are also a lot of things you can do that no one else can. For example, if, one day, Will Ferrell just decides he wants to make commercials for Old Milwaukee beer for some reason, he can call up the Pabst Brewing Company, head to Davenport, Iowa, and just do it.
And, well, that's what he did.
Now before you accuse Ferrell of being a sell-out, he apparently got no money for the ads. In fact, the whole thing was his idea. I wasn't being facetious. He really just called the company up.
From The Quad-City Times:
"They began airing late last week on local television stations and cable channels that can be seen in the Quad-Cities. It is not a national advertising campaign, according to a spokeswoman for Pabst Brewing Co., the parent company of Old Milwaukee.

Ferrell did not receive any payment for doing the spots.

'Will approached Old Milwaukee because he's a big fan of the beer and thought it would be fun to make the commercials, and we couldn't be more excited that he did,' Bryan Crowley, Pabst Brewing's chief marketing officer, wrote in an email sent Tuesday to the Quad-City Times."
There's three commercials. They're only airing in Wisconsin but, thanks to someone taping them off the TV, they've recently been going viral on YouTube. And, unsurprisingly, they're hilarious. They're perhaps the funniest parody of rugged, masculine Americana since Rick Perry's last campaign ad. Only these are funny on purpose.
Watch all three below:
(h/t Business Insider via The Playlist)
Have a tip we should know? tips@mediaite.com