Will Hillary Clinton Win the Decisive Round One Battle vs. Trump: Convention Speech Ratings?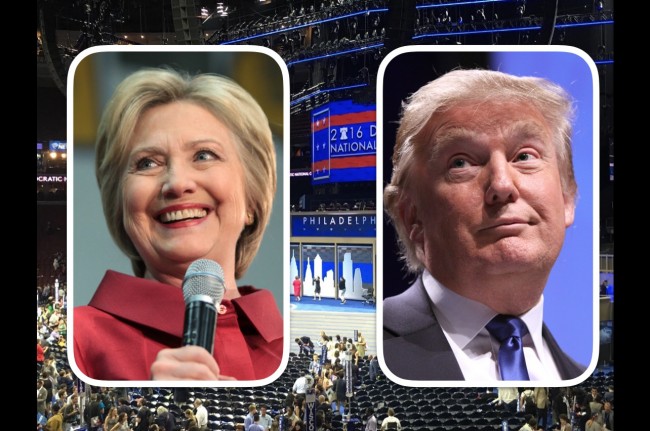 Tonight at the Wells Fargo Center in South Philadelphia, the former Secretary of State Hillary Clinton will officially accept the Democratic party's nomination for the Presidency, becoming the first woman in our nation's history to do so. Similar to the energy surrounding the nomination process eight years ago, viewers and the American electorate alike seem to be keenly aware that history hangs in the balance, and tens of millions are expected to watch.
One person who will NOT have his television tuned in? The Republican nominee Donald Trump, who could be facing defeat in a seemingly meaningless category that we ALL know means the world to him: TV ratings.
Ratings have driven the political psyche of this man ever since that fateful escalator trip at Trump Tower. Through the primary process, Trump has largely been responsible for the media bonanza at every turn — a realization that he has obnoxiously reminded every person he can. Take for example MSNBC's Chuck Todd, who was told by the real estate titan directly back in August, "I'm leading in the polls. I go on your show — you will get the highest ratings you've had in years." He followed up his bravado with the proof in the pudding: that same month, the first primary debate on Fox News smashed ratings records, hauling in a record audience of 24 million viewers. Just weeks later, CNN hit nearly 23 million in the GOP follow-up.
To put this in perspective, the highest-rated Democratic party debate netted 15.8 million viewers. I guess Lincoln Chafee doesn't quite bring in the star power of a Donald Trump.
But now that the primary process has ended and we near the conclusion of the conventions, an intriguing trend has notably emerged: why were the Republican ratings last week in Cleveland so low?
This was, after all, the coronation of the reality TV super star at his pinnacle, gracing the stage at times in the most ostentatious and overelaborate ways imaginable. But as another New York businessman (or "business, man!") Jay Z says: Men lie, women lie… numbers don't. And the numbers indicate that perhaps Trump Fatigue has set in. For the nominee's hour+ long speech last Thursday, 29.9 million people watched on broadcast between CNN, Fox News, and MSNBC.
The numbers may sound yuuge, but a quick glimpse at history reveals the truth:
DNC 2012 — final night — 35.7 million
RNC 2012 — final night — 30.3 million
DNC 2008 — final night — 38.4 million
RNC 2008 — final night — 38.9 million
Trump's closing night numbers fell way below those of Barack Obama's (both), John McCain's, and Mitt Romney's.
And after tonight, we may be able to add Hillary Clinton to that list, a realization that I'm willing to bet is certainly on the mind of the businessman today.
Check out this fundraising email obtained by CNN's Brian Stelter that is reportedly going out to people today from the Trump campaign:
"Don't watch Hillary's DNC speech tonight," new Trump fund-raising email says (via a colleague) pic.twitter.com/uBRRpUrLmL

— Brian Stelter (@brianstelter) July 28, 2016
Note the italics: don't watch Hillary's DNC speech tonight.
And why wouldn't he be nervous? This is the man who figured out how to turn these largely meaningless statistics into campaign talking points that emphasized strength, victory, and the same type of greatness he has in mind for America. And he may be mere hours from a slew of headlines (undoubtedly, from what will be labeled the "dishonest media") all about how he lost the key ratings battle against Clinton.
This week in Philadelphia, the Democrats have put on a show of force, trumping the Republicans in the category that the party's nominee himself obsesses over. While the GOP touted Scott Baio last week, the Democrats Charles N' Charged a star-studded opening night on Monday, earning 25.74 million viewers (between ABC, CBS, NBC, CNN, MSNBC and Fox News) in the key timeslot of 10 p.m. to 11:30 p.m. ET.
The GOP last week for those parameters brought in 23.02 million.
Was it a fluke? Tuesday indicated that it likely wasn't. 24.7 million viewers tuned in to Tuesday night's broadcasts, which included former President Bill Clinton. As for last Tuesday in Cleveland? A paltry 19.75 million. Bubba for the win.
While the numbers aren't quite in just yet for last night, it's tough to imagine that the Musketeers of Ted Cruz, Newt Gingrich, and Mike Pence could top the showing in South Philly last night: Vice President Joe Biden, his wife Jill, Gabby Giffords, VP candidate Tim Kaine, and our Commander in Chief himself, who took the stage minutes after 10:30 p.m. ET. I was in the arena, and could not see a single open seat no matter how hard I squinted; I'm willing to bet the numbers from home viewers will prove my suspicions correct.
Make no mistake about it — if (and I suspect when) Hillary Clinton's numbers tonight trounce those of Donald Trump's, it will be be a devastating blow akin to the personal heartache I speculated Trump suffered when he smashed through the New York Primary, but lost Manhattan in the process to the guy from Ohio whose name New Yorkers could barely pronounce. With Trump, it's about the ego, the title, the declaration of victory.
Tonight, the very polestar of his campaign — winning — is at stake, and with it, a decisive victory that may go to Clinton that may not mean much to many people… expect the one person willing to do anything to come out on top.
—
J.D. Durkin (@jiveDurkey) is an editorial producer and columnist at Mediaite.
[images via Wikipedia Commons]
Have a tip we should know? tips@mediaite.com