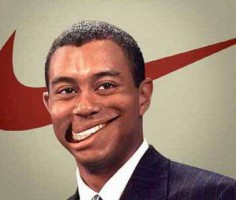 This isn't any great surprise, but it will be interesting to see how it plays out: advertisements featuring Tiger Woods have stopped appearing on major television channels, according to CNNMoney. The last Tiger Woods ad was a Gillette ad which aired on November 29th, two days after his mysterious car crash, but before allegations of his affairs dominated the national media. 
From CNNMoney:
According to media tracker Nielsen, the last time a commercial featuring Tiger Woods appeared on television was Nov. 29. The 30-second Gillette ad aired during NBC's "Football Night in America," the pre-game show that broadcast prior to the Sunday night football game between the New Orleans Saints and the New England Patriots…

…Since then, no Woods commercials have aired, not even over this past weekend during the Chevron World Challenge, the golf tournament hosted by Woods since 2001.
Gatorade has also discontinued Tiger Focus, a Tiger Woods-endorsed sports drink, although the company says that it had planned to do so before he became a two-week-and-counting media train wreck.
The multimillion dollar question, though, is what will come of Woods' relationship with Nike, which is one of his biggest and most visible sponsors. On December 2nd, Nike affirmed its support for Woods: "Nike supports Tiger and his family. Our relationship remains unchanged," the company said in a statement. But that was before there were 10 11 women other than his wife allegedly involved with him.
For what it's worth, the Nike Golf website still prominently features Woods, who has an entire section devoted to him which is cordoned off from their main "athletes" section: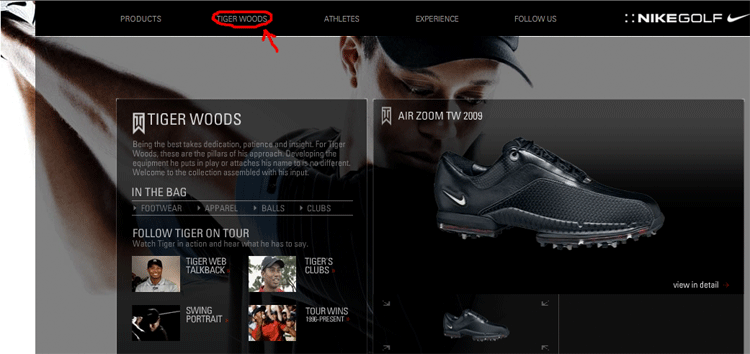 Bloomberg also had an article about Woods' sponsorship woes, which has disappeared, although it appears to have done so for technical reasons. The best part of the article has to be this out-of-context factoid, which sounds like a catty celebrity burn even though it's entirely factual:
"Woods ranked just below Oprah Winfrey and above Bill Cosby on the Davie Brown Index, which tracks 2,800 celebrities. Now he is between actress Julia Roberts and former U.S. Secretary of State Colin Powell."
In another Bloomberg article, we discover that that means that Woods dropped from 6th place to 24th on the Davie Brown Index.
Still, under Julia Roberts? Why, her film career has slowed down somewhat! And Duplicity was a mild box office disappointment!
(h/t Mediabistro)
Have a tip we should know? tips@mediaite.com