WorldNetDaily Publishes Photo Of Rachel Maddow Being Served Bradlee Dean Lawsuit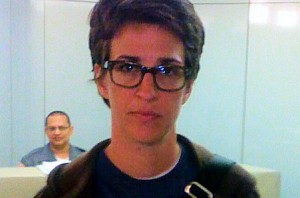 Conservative website (and Birther hub) WorldNetDaily has published what can only be described as "process server porn," posting a cell phone pic of MSNBC star Rachel Maddow at the moment she was served a lawsuit. Maddow is being sued by "Christian rocker" Bradlee Dean for, among other things, pointing out the spelling of his first name. While the WND crowd may have gotten a "you are there" charge out of this service, the takeaway for normal people is likely that, even in the face of a camera-wielding process server, Maddow is still the Queen of Nice.
According to WND, the $50 million suit "alleges defamation for her references to Bradlee Dean's YouCanRunButYouCannotHideInternational ministry," but they don't say what portion of that potential award, if any, will be set aside for the purchase of a keyboard with a spacebar. Also from WND:
The complaint said Maddow "outrageously disparaged Bradlee Dean's physical appearance, his first name and his profession as a heavy metal entertainer and his standing in the community and represented that he and YCR had advocated the execution of gays."

As a result, Dean has had death threats, the lawsuit said.
The suit stems from a segment on The Rachel Maddow Show in which the host played a clip of Bradlee Dean discussing Muslims "calling for the execution of homosexuals in America," saying that they "seem to be more moral than even the American Christians do."
Maddow also read a disclaimer from Dean's website that "We have never and will never call for the execution of homosexuals."
The suit goes on to cite this portion of Maddow's May 11 broadcast:
MADDOW:  Mr. Gingrich is not the only Republican presidential contender to turn toward the social conservativism—the part of social conservativism that is that radical and blood thirsty.  Republican Congresswoman Michele Bachmann of Minnesota, for example, will reportedly share the stage next month at a Tea Party-nominating convention for president and vice president, with an activist named Bradlee Dean.

If the name Bradlee Dean is familiar to you from this show, it maybe that you remember Bradlee Dean, like Lou Engel, calling for an upping of the bloodshed in America's culture wars.

(BEGIN AUDIO CLIP)

BRADLEE DEAN, YOU CAN RUN MINISTRIES:  Muslims are calling for the execution of homosexuals in America.  This was just released yesterday and it shows you that they themselves are upholding the laws that are in the Bible of the Judeo-Christian God, but they seem to be more moral than even the American Christians do, because these people are livid about enforcing their laws.  They know homosexuality is an abomination.

If America won't enforce the laws, God will raise up a foreign enemy to do just that.  That's what you're seeing today in America.

(END AUDIO CLIP)

MADDOW:  Foreign enemies rising up against America because Christians aren't doing the job of killing the gays.
Dean is using the old "out-of-context" dodge to muddy the waters. In October, Dean attempted to recast his remarks as a "warning" to homosexuals that "the Muslims were calling for their executions," and expressing surprise that gay people didn't say "Thank you, Bradlee!"
If you listen to the full context of what Dean said, though, he goes on to explain that ""If America won't enforce the laws (against homosexuality), God will raise up a foreign enemy to do just that," so while Dean isn't "calling for" the killing of homosexuals (he's technically calling for them to "repent"), he is espousing a belief that it is God's will that those who don't "repent" should be killed. That is, unless I missed the part where he said God was a big jerky-jerk for wanting to do that.
Remove God from this equation (which is easy to do, since Leviticus 26 says nothing about foreigners slaughtering gays), and Dean's "warning" is, at best, a threat: "repent"  or die. At worst, it's an attempt to provide a biblical justification for "foreigners" to kill "unrepentant" gays. I wonder what Bradlee Dean would say if Maddow had said God would send someone to kill him for his "sins."
Given all that, it is remarkable that Maddow mustered only a gaze at the process server that said, "Really?"
That process server, and WorldNetDaily, got their trophy, but it will probably be the last one they get.
Have a tip we should know? tips@mediaite.com