We're Glad This Exists: Internet Rallies Around Man Whose Shop Was Ruined In The London Riots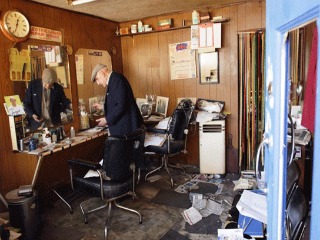 So by now we've all heard that London is calling, and it is telling us that it us consuming itself on Twitter and on television so that we might all watch and gasp and shake our heads and suggest the idea that violence is disenfranchisement taken to its logical conclusion. (Which: No, it is not. And even if it were, let's try and maybe promote the idea that Americans are better than that, and that we can hold ourselves and one another up to a standard somewhere slightly above ruining people's lives and livelihoods to make a point that was forgotten at some point between the moment a young man was shot to death on a city street and another young man was mugged and beaten. /rant) In the midst of all this violence and looting, 89-year-old Aaron Biber's Tottenham barbershop was utterly destroyed. The Daily What reports on the damage, as well as Biber's inability to re-open his shop on his own:
Last year, Aaron lost his wife. This year, he lost his business. Rioters ransacked his barbershop, smashed windows, and stole hairdryers. "I will probably have to close because I haven't got insurance and I can't afford the repairs," Aaron says.
But (VELVEETA ALERT), just as a mob can grow mindless, it can also prove that it need not be heartless: People across the internet have begun offering donations through a website set up to help Biber come up with the money he needs to fix and re-open his business.
The site is called "Keep Aaron Cutting," and, no, I am not crying, I just… these are tears of laughter from Schneider's wrestling post. From the site:
All the money raised is of course for Aaron and his shop. If however it turns out that he doesn't need the full amount, we will discuss with him how we can use the fund to help the Tottenham community back on it's feet. Consider him the 'father' of the fund. First point of action, his shop.
People can be wonderful sometimes.
h/t The Daily What
Have a tip we should know? tips@mediaite.com