'Would Be Great If They Kept It Quiet!': Shocking Texts Suggest Possible Cover Up in Baylor FB Scandal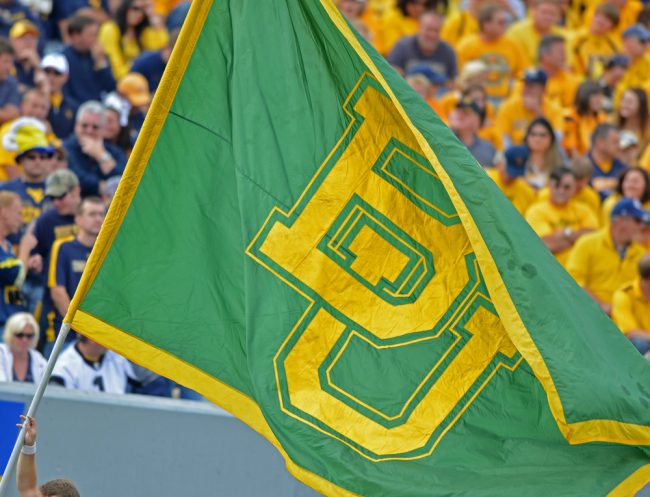 A new court filing alleges that deposed Baylor football coach Art Briles and his assistants attempted to cover up a series of incidents of player misconducuct over the years.
The filing included a number of shocking text messages allegedly between Briles, his assistants, and other university athletic officials.
"Hopefully he's under radar enough they won't recognize name," Briles allegedly wrote in one message, after a freshman defensive lineman was cited for illegal consumption of alcohol.
"That would be great if they kept it quiet!" then-athletic director Ian McCaw seemed to write, after a player was arrested for assault and threatening to kill an unidentified person.
The texts were revealed as part of a defense filing in response to a libel lawsuit brought forth by former associate athletic director Colin Shillinglaw.
"Colin Shillinglaw's defamation claims amount to nothing more than a public relations smokescreen intended to hide the truth about how Shillinglaw, Coach Briles and others created a culture within the football program that shielded players from University discipline for alleged offenses ranging from drug use and academic cheating to assault," the defense filing said.
Here are all of the texts included in the filing.
On April 8, 2011, after a freshman defensive tackle was cited for illegal consumption of alcohol, Coach Briles sent a text message to an assistant coach: "Hopefully he's under radar enough they won't recognize name – did he get ticket from Baylor police or Waco? … Just trying to keep him away from our judicial affairs folks…."

On February 11, 2013, an assistant coach notified Coach Briles of a claim by a female student-athlete that a football player brandished a gun at her. Coach Briles responded: "what a fool – she reporting to authorities." The assistant coach texted back: "She's acting traumatized … Trying to talk her calm now… Doesn't seem to want to report though." Coach Briles texted: "U gonna talk to [the player]." The assistant coach concluded: "Yes sir, just did. Caught him on the way to class… Squeezed him pretty good." The matter was never reported to Judicial Affairs.

On September 13, 2013, Shillinglaw sent a text to Coach Briles about a player who got a massage and "supposedly exposed himself and asked for favors. She [masseuse] has a lawyer but wants us to handle with discipline and counseling." Coach Briles' first response was "What kind of discipline… She a stripper?" When Shillinglaw said the player made the request at a salon and spa while getting a massage, Coach Briles wrote, "Not quite as bad."

On September 20, 2013, after a player was arrested for assault and threatening to kill a non-athlete, a football operations staff official tried to talk the victim out of pressing criminal charges. Meanwhile, Coach Briles texted Athletics Director Ian McCaw: "Just talked to [the player] – he said Waco PD was there – said they were going to keep it quiet – Wasn't a set up deal… I'll get shill (Shillinglaw) to ck on Sibley (local attorney Jonathan Sibley)." Athletics Director Ian McCaw replied: "That would be great if they kept it quiet!"

In October 2013, Shillinglaw and Briles discussed their efforts to intervene on behalf of a player who was suspended for repeated drug violations. "Bottom line, he has to meet with (Vice President for Student Life Kevin) Jackson tomorrow morning. If Jackson does not reinstate President will," Shillinglaw wrote.

On May 14, 2014, after Coach Briles learned from an assistant coach that a player had been caught selling drugs, he texted: "I'm hoping it will take care of itself – if not we can discuss best way to move on it." The offense was never reported to Judicial Affairs and Coach Briles arranged for the player to transfer to another school. The assistant coach texted: "Him just hanging around Waco scares me. [Another school] will take him. Knows baggage."

On August 15, 2015, after a player was arrested for possession of marijuana, Coach Briles texted an assistant coach: "Sh*t – how about that – he's gonna b (sic) in the system now – let me know what you think we should do… I can get shill (Shillinglaw) to call Sibley or we can…. Do we know who complained?" The assistant coach responded that the complainant was the superintendent at the player's apartment complex. Coach Briles replied: "We need to know who supervisor is and get him to alert us first."
Neither Briles nor Shillinglaw have made any public comment on the new revelations yet. A separate lawsuit filed against the university last week alleges at least 52 "acts of rape" by 31 Baylor football players from 2011-2014, according to the Dallas Morning-News
Read the complete filing here, via the Dallas Morning News
[image via Aspen Media – ShutterStock.com]
–
Follow Joe DePaolo (@joe_depaolo) on Twitter
Have a tip we should know? tips@mediaite.com
Joe DePaolo - Senior Editor