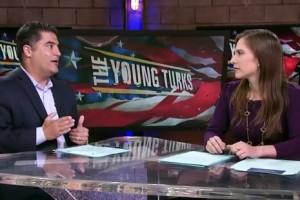 It looks like  The Young Turks co-host Ana Kasparian isn't the biggest fan of conservative columnist S.E. Cupp. Ana, who recently called S.E. an "embarrassment to women" for positing Ann Romney and her choice to marry well as an empowering role model, took another swipe at S.E. over Miss Ohio's comments about the title character in Pretty Woman being a positive portrayal of women in film. Kasparian said that S.E. "would be proud of" Julia Roberts' Vivian Ward character. Maybe we should all sit down for some Cosmos. The Cosmos are for me, you can get whatever you want.
It all started with S.E. Cupp's take on the flap surrounding Hilary Rosen's supposed attack on Ann Romney. S.E.'s column basically said that choosing to marry well was an "empowering" choice for Mrs. Romney. That didn't sit too well with Ana, who called S.E. "simple-minded and an "embarrassment to women" over the column. I've actually read the thing over a few times, though, and I'm not entirely sure S.E. wasn't making fun of Ann Romney.
In any case, Ana revisited her criticism of S.E. Cupp on Monday's web-only show. Talking about Miss Ohio Audrey Bolte, who told the Miss USA judges that Julia Roberts' character in the 1990 romantic comedy Pretty Woman is an example of a positive portrayal of women in film, host Cenk Uygur took a little bit of a hard line on sex workers, calling Roberts' character a "whore," before amending that to "hooker."
However, he did explain that Roberts' film occupation wasn't as offensive as the fact that the film's "empowering" climax (SPOILER ALERT) involves Roberts' character being "rescued by a really rich guy."
"You know who would be proud of Julia Roberts in that role?" Ana asked. "S.E. Cupp. Because, hey, she found a wealthy man to take care of her, like Ann Romney did."
Cenk was quick to point out that Ann Romney (SPOILER ALERT) did not meet her husband as a high-priced call-girl on one of her first paid "dates."
He also defended Miss Ohio, explaining how difficult it can be to respond spontaneously under that kind of pressure. The first movie I think of for positive portrayals of women is Silence Of The Lambs, so what does that say about what a woman has to do to succeed? Do Richard Gere or have Multiple Miggs throw a load in your face? What kind of choice is that?
For what it's worth, Cenk and Ana did defend S.E. when she was attacked by Hustler, so maybe there's some hope for common ground.
Here's the clip, from The Young Turks:
Follow Tommy Christopher (@TommyXtopher) on Twitter.
Have a tip we should know? tips@mediaite.com