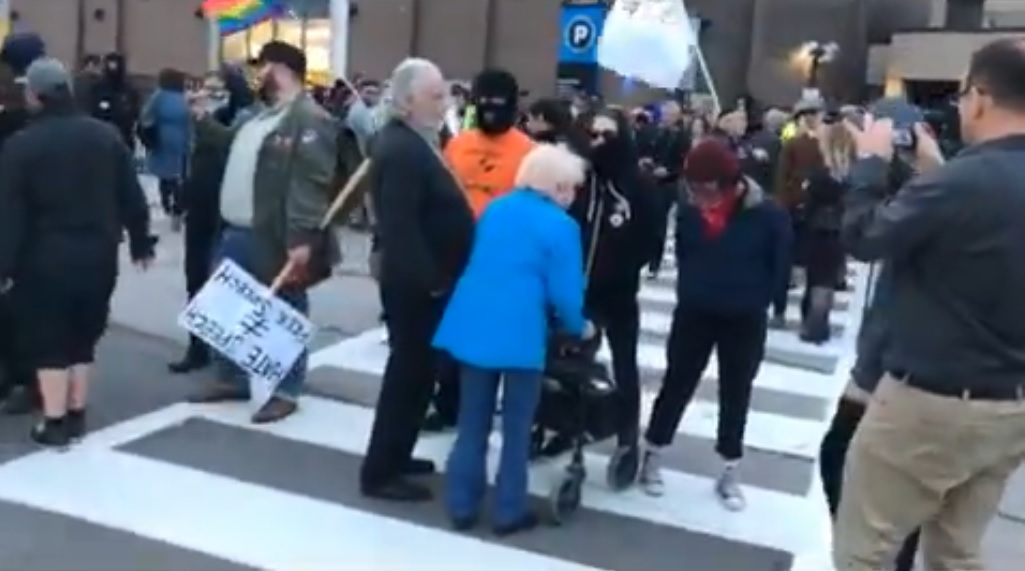 On Sunday, Canadian MP Maxime Bernier and libertarian commentator Dave Rubin headlined an event at Mohawk College in Hamilton, Canada. Just outside the event, a peaceful protest turned violent.
According to CBC, numerous violent incidents took place which led to several arrests, and in one alleged incident from the event, which has surfaced on video, masked Antifa protesters harassed an elderly lady trying to cross a road.
In the video, the unnamed lady, who is trying to cross a zebra crossing with her walking frame, is suddenly blocked by the masked protesters who repeatedly scream, "Nazi scum off our streets!" and refuse to let her through.
The incident prompted a wave of reactions from conservative media figures online, including the two speakers who headlined the event.
Bernier declared, "These Antifa protesters are a small minority of violent thugs. The most frightening is that their extremist, Far Left ideology is now tacitly supported by many in academia, the media, activist organizations, and politics. Our democracy is in danger."
"It was an incredible night. This however, does qualify as no words…" reacted Rubin.
Human Events Managing Editor Ian Miles Cheong commented, "Antifa loves to abuse elderly people who can't defend themselves," while author, journalist, and political filmmaker Mike Cernovich proclaimed, "This is ANTIFA, this is what most left wing reporters would do to your grandparents if they could get away with it."
The Blaze's Jason Howerton posted, "Imagine being a member of Antifa blocking and harassing an elderly woman using a walker & actually thinking YOU are the one fighting 'fascism,'" and Stoneman Douglas High School shooting survivor Kyle Kashuv wrote, "The Tolerant Left Folks. What kind of monster refuses to let an elderly couple cross the street… Antifa."
Have a tip we should know? tips@mediaite.com