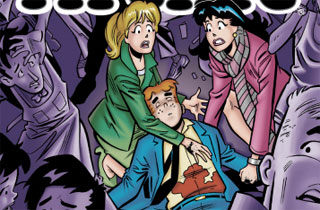 In April, the creators of Archie Comics announced that they were killing off its main character, and today, they announced how Archie Andrews will die in Wednesday's edition of Life with Archie: by taking a bullet for the comic's first openly gay character.
In an interview with TPM, Jon Goldwater, the CEO of Archie Comics, said that the death is "everything that you would expect of Archie. He dies heroically. He dies selflessly. He dies in the manner that epitomizes not only the best of Riverdale but the best of all of us. It's what Archie has come to represent over the past almost 75 years."
All of the hot topics of today are involved in the storyline: the death takes place in a future where Archie, Betty, Veronica, and everyone else are all adults, and Kevin Keller, the first openly gay character in the comics, is now a US Senator fighting for gun control. Why Kevin, you might ask?
"We wanted to do something that was impactful that would really resonate with the world and bring home just how important Archie is to everyone," said Goldwater. "That's how we came up with the storyline of saving Kevin. He could have saved Betty. He could have saved Veronica. We get that, but metaphorically, by saving Kevin, a new Riverdale is born."
The franchise, however, has been around since 1941, so Archie Andrews will still live on in other comic series.
[TPM]
[Image via Archie Comics]
—
>> Follow Tina Nguyen (@Tina_Nguyen) on Twitter
Have a tip we should know? tips@mediaite.com