Meet The Prensa: Gerson Borrero on Univisión, Telemundo and the "Drive-By Racists" of Fox News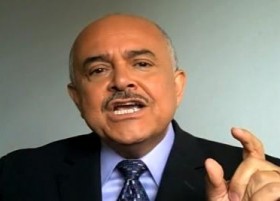 It started as a quiet radio talk show—a dialogue between two journalists from competing Hispanic television networks. Both were praising the way their stations had been covering the ongoing hearings of Sonia Sotomayor before the Senate Judiciary Committee.
It was the usual display of Hispanic pride, respect for the accomplished judge and her mother, and the reshaping of the American Dream.
Then NPR's Tell Me More host Michel Martin asked what Gerson Borrero had to say.
"You're a columnist, so I think you probably have a little bit more latitude in what you may say," Martin said, a hint of irony slipping between her words.
"With all due respect to my esteemed colleagues, both of them…" Borrero said – and launched into one of his famous tirades.
Eighty seconds of ranting ensued, with Borrero calling the networks' programming "ridiculous," and denouncing "the suits" who ran them for not caring to "educate, illustrate and inform" Hispanics.
After being stopped by Michel to allow a reply from Univisión's anchor María Elena Salinas, and Telemundo's reporter Lori Montenegro, Borrero decided to abandon the conversation.
He felt he wasn't given the chance to fully express his point of view.
Yet it was probably a good morning for Borrero, who seems to enjoy a good controversy as some enjoy a fine bottle of wine.
The Puerto-Rican-born New Yorker has been picking fights over Hispanic issues for decades, most notably when he lost a radio talk show after suggesting that three Hispanic Congressmen lacked political cojones (one of them was a woman, for whom he preferred the term "ovaries"); and when he resigned to the position of editor in chief of New York's El Diario over a column on education reform in Cuba signed by Fidel Castro.
These days, Borrero is most recognized for his weekly appearances in NY1's Inside City Hall, where he confronts Guardian Angels' Curtis Sliwa, and his "Bajo Fuego" columns in El Diario. He has also recently added a new platform for his commentary with the Borrero Report.
In a conversation with Mediaite's "Meet The Prensa," Mr. Borrero addressed his position on the political status of Puerto Rico ("occupied"), his upbringing in the Bronx ("it made me tougher"), Fox News ("drive-by racists"), soap operas ("they make people stupid"), Hispanic radio ("full of Howard Stern wannabes"), and his insult-ridden journalistic style.
It was also the first time he addressed his NPR controversy on Univisión and Telemundo.
"As far as I am concerned, they could go out of business tomorrow," he quipped.
Interview below:
Meet the Prensa #2: Gerson Borrero from josesimian on Vimeo
Have a tip we should know? tips@mediaite.com