Ted Kennedy's Letter to the Pope: "I am writing with deep humility to ask that you pray for me as my own health declines."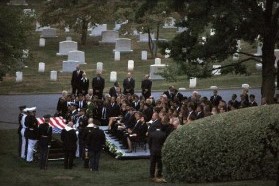 The Boston Herald has printed excerpts of a letter from Senator Edward Kennedy to Pope Benedict XVI in July, hand-delivered by President Barack Obama during his Papal visit last month.
In the letter, Kennedy emphasized his longtime quest for better health care, his own Catholic faith, and his own "human failings." Wrote Kennedy:
"I am writing with deep humility to ask that you pray for me as my own health declines," wrote Kennedy, according to the Herald. "I want you to know, Your Holiness, that in my nearly 50 years of elective office, I have done my best to champion the rights of the poor and open doors of economic opportunity. I've worked to welcome the immigrant, fight discrimination and expand access to healthcare and education. I have opposed the death penalty and fought to end war. Those are the issues that have motivated me and have been the focus of my work as a Unites States Senator…
"I've always tried to be a faithful Catholic, Your Holiness, and though I have fallen short through human failings, I have never failed to believe and respect the fundamental teaching of my faith. I continue to pray for God's blessing, on you, and on our church, and would be most thankful for your prayers for me."
Those "human failings" must certainly include the tragic incident at Chappaquiddick, where Kennedy lost control of his car and drove off a bridge into the water with passenger Mary Jo Kopechne. Kennedy escaped the car and survived; Kopechne did not. That incident has only been very lightly alluded to during the coverage of Kennedy's funeral yesterday, but Tom Brokaw made this point during NBC Nightly News last night: "The Roman Catholic faith was central to the life of Senator Kennedy. Even when he strayed — or sometimes crashed — off the straight and narrow life, he always came back to the Church."
Brokaw also noted: "There are those, of course, who feel very strongly that he should not be getting the kind of encomiums he is because of his personal deportment, but I think this outpouring at the capital and Boston, and the tributes from Senator McCain and Senator Hatch last night, and the other Republicans who showed up today, bring a whole other dimension to Senator Kennedy in terms of his personal generosity that a lot of people didn't know about."
Another note about Kennedy's letter: Nowhere in it does he mention his big note of disagreement with the Catholic Church: Abortion. Kennedy was famously pro-abortion — which was an issue that forced many of his Catholic Massachussetts constitutents to vote elsewhere on the ballot — and no doubt would have raised a papal eyebrow as well. Perhaps he got some help from his messenger: While at the Vatican, Obama told the Pope that he wanted to reduce abortions in the U.S. (not limiting access; bettering social/economic conditions to provide women with more options).
Either way, the Pope showed clemency and forgiveness, replying to Kennedy's letter and saying he was praying for him: "He invokes upon you the consolation and peace promised by the Risen Savior to all who share in His sufferings, and trust in His promise of eternal life."
Ted Kennedy's letter to Pope Benedict XVI, and the papal reply [Boston Herald]
(via Alexander Burns at Politico's Playbook; photo via Bloomberg)
Have a tip we should know? tips@mediaite.com