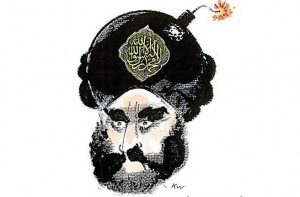 The University of Cape Town announced earlier this month that they were disinviting Danish journalist Flemming Rose for his role in publishing controversial political cartoons depicting Muhammad.
In 2005, Danish newspaper Jyllands Posten published images that mocked Islamic radicals, including several mocking Muhammad. News of the cartoons sparked a violent backlash in many Muslim countries, leaving 200 dead. As Jyllands Posten's cultural editor, Rose commissioned and played a vital role in publishing the cartoons.
Rose was invited to gave UCT's annual TB Davie Lecture on academic freedom. But a year after the invitation was accepted, UCT Vice-Chancellor Max Price rescinded it, saying that Rose's lecture would "retard rather than advance academic freedom."
"Mr. Rose is regarded by many around the world as right wing, Islamophobic, someone whose statements have been deliberately provocative, insulting and possibly amount to hate speech, and an editor of a publication that many believe took a bigoted view of freedom of expression," he said in a statement.
Price also cited the security risks posed by inviting Rose, who has been explicitly targeted for reprisal by Islamic fundamentalist groups. "The rise of Islamophobia, the undeniable turmoil in the Middle East in general, the Palestinian question, the rise in extremist terrorist groups, and the violent consequences of these factors in the world (including West and East Africa) is the context in which one must consider the consequences of hosting Mr Rose," he argued.
In response, the UCT Head of Philosophy and a member of its academic freedom council David Benatar penned a scathing op-ed. "First, we have been provided with no evidence that violence is likely to result from Mr. Rose's lecture (even though the Academic Freedom Committee specifically requested such evidence)," wrote Benatar. "Second, if a lecture results in violence it does not follow that the lecture itself exceeds the moral or legal limits of freedom of expression. If it did follow, then those willing to respond violently will have a de facto veto on any ideas they dislike."
[Image via screengrab]
——
>>Follow Alex Griswold (@HashtagGriswold) on Twitter
Have a tip we should know? tips@mediaite.com