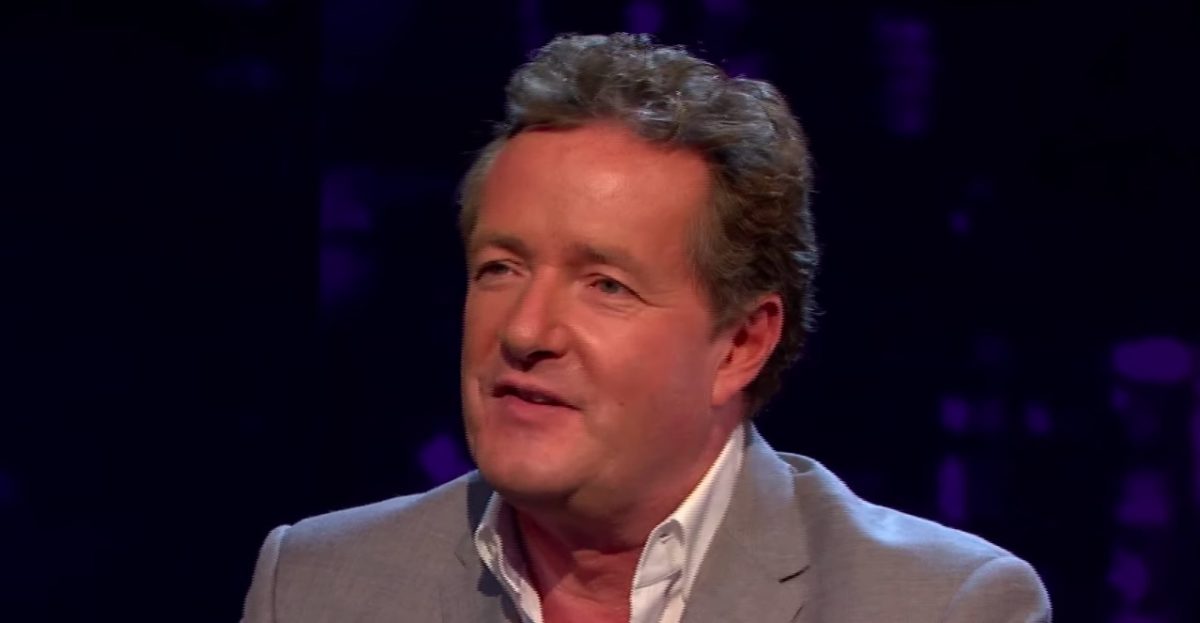 After the U.S. national soccer team beat England 2-1 and secured their place in what will be their third consecutive Women's World Cup final on Tuesday, the real loser was British pundit Piers Morgan.
Morgan, who has spent the World Cup thus far attacking members of the U.S. women's team, had tweeted "make these cocky yanks choke on it" at England's team just before his country's loss. In the final minutes of the match, England suffered a called back goal and missed a penalty kick, while U.S. co-captain Alex Morgan nailed the game-winner.
Come on @Lionesses – make these cocky yanks choke on it. pic.twitter.com/lOybEhNRGT

— Piers Morgan (@piersmorgan) July 2, 2019
Piers Morgan also responded to Morgan's goal celebration — she pretended to take a sip of tea — by saying it "border[ed] on a declaration of war." After tweeting a series of angry emojis, the U.K. pundit accepted the loss and vowed to honor a $1,000-to-charity bet he made with an American Twitter user.
All over. Beaten by the better team.
Good effort @Lionesses but sadly not good enough. Well played USA.

— Piers Morgan (@piersmorgan) July 2, 2019
However, that was not enough for most on the site, as his name quickly began trending along with an avalanche of anti-Morgan jokes and memes. Check out a few of the reactions below:
Any day the entire country can dunk on Piers Morgan is a good one.

— Schooley (@Rschooley) July 2, 2019
be honest: none of you are as excited for a #USWNT win as you are for the chance to dunk on piers morgan.

— T. Becket Adams (@BecketAdams) July 2, 2019
Piers Morgan is an object lesson about the dangers of socialism. Nothing can be publicly owned that much.

— ???? ???????? (@prof_gabriele) July 2, 2019
just going to leave this here @piersmorgan pic.twitter.com/HSGJcb3im7

— Matt Pearce ? (@mattdpearce) July 2, 2019
piers morgan found dead https://t.co/NLpHuPH1jn pic.twitter.com/sTMdAQLjHt

— David Mack (@davidmackau) July 2, 2019
My fellow Americans, let us be gracious winners

Unless we're talking to Piers Morgan lmaoooo

— Natalia Antonova ?? (@NataliaAntonova) July 2, 2019
First, we win the Revolutionary War.

Then, we send @piersmorgan back across the pond with his tail between his legs.

Now, this.

— Aaron Blake (@AaronBlake) July 2, 2019
Congrats to the American team for beating Piers Morgan.

— Daniel Spenser (@DanSpenser) July 2, 2019
Suck my Amercan less inbred dick @piersmorgan https://t.co/UTlO06k4vD

— PFTCommenter (@PFTCommenter) July 2, 2019
the idea of piers morgan being sad is just making me so happy.

— Kyle Feldscher (@Kyle_Feldscher) July 2, 2019
Piers Morgan's perfect record of being completely fucking wrong about all women all the time remains in tact https://t.co/8YTgetWRK8

— maura quint (@behindyourback) July 2, 2019
Have a tip we should know? tips@mediaite.com