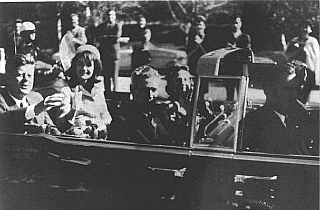 This month marks the 50th anniversary of the assassination of President John F. Kennedy. Arguably one of the most controversial events in American history, Kennedy was shot and killed while riding in a motorcade in Dallas, Texas, on November 22, 1963. According to four government investigations, Lee Harvey Oswald was the sniper who assassinated the president.

To mark the 50th anniversary, many TV networks will present special programming throughout the month to revisit and commemorate Kennedy's presidency and his tragic assassination.
The official Mediaite guide to Kennedy specials below:
Broadcast Networks
ABC
The Disney-owned network will air five days of programming beginning Nov. 17th on Good Morning America and continuing throughout other shows like World News Tonight and Nightline. On the 22nd, GMA will broadcast live from Dallas;World News will do a special report on the conspiracy theories surrounding the assassination as well as a piece on the Kennedy women; and newsmagazine Nightline will do a full hour of special programming, including interviews with witnesses.
CBS
On Nov. 16th at 9 p.m., CBS will air As it Happened: John F. Kennedy 50 Years, hosted by Bob Schieffer. He will also anchor the following day's Face the Nation live from Dallas. And on Nov. 22, Scott Pelley will anchor CBS Evening News live from Dallas, featuring an interview with Clint Hill, the Secret Service agent who was in the motorcade with Kennedy.
NBC
On Nov. 22nd at 9 p.m., NBC will air a two-hour special, hosted by Tom Brokaw, called Where Were You?. It will pose the titular question (and other pressing questions) to a variety of people, including some who were present that day. Sunday talk show Meet the Press will feature footage from 1960 Kennedy interviews in a special called MTP Remembers: JFK — the Presidential Campaign.
PBS
Cold Case JFK will explore the forensics of the Kennedy assassination on Nov. 13 at 9 p.m. Another special, titled "JFK: One PM Central Standard Time," looks at what happened from the shooting until Walter Cronkite announced to the world Kennedy's death. That will feature interviews with former President Bill Clinton, and narration from George Clooney, and airs Nov. 13 at 10 p.m.
Cable News
CNN
On Nov. 14, CNN's ten-part series The Sixties begins with a two-hour episode titled "The JFK Assassination," looking at the Warren Commission and the assassination's impact on American culture and politics. For that special, CNN interviewed a bevy of historians, journalists, and the granddaughter of the man who captured the only film of Kennedy's assassination.
Fox News
Fox News Reporting: 50 Years of Questions: The JFK Assassination will air Saturday, Nov. 16, at 10 p.m. on Fox News. Host Bill Hemmer takes a look at the controversy surrounding the assassination, the FBI investigation, and the Warren Commission's findings.
Other Cable Networks
Discovery
On Nov. 21 at 7 p.m., the Discovery Channel will air JFK: The Lost Tapes featuring rarely-heard footage of witness testimony, news and radio broadcasts, and police/military communications.
History Channel
The History Channel will air JFK Assassination: The Definitive Guide, a Nov. 22 (8 p.m.) special that will take a look at all the various conspiracy theories associated with Kennedy's assassination. History will also air Lee Harvey Oswald: 48 Hours to Live, which takes a look at Oswald during the final week of his life and will air at 10 p.m. on the same evening.
Military Channel
Airing Nov. 12 and 22 (both at 10 p.m.), Military Channel will air Capturing Oswald, featuring rare interviews with members of the Dallas police department who were involved in seizing Kennedy's killer.
National Geographic
As we reported, NatGeo will air Killing Kennedy (Sunday the 10th, 8 p.m.), a film based on Bill O'Reilly's best-selling book, starring Rob Lowe as JFK. Two days before that, NatGeo will air JFK: The Final Hours (Friday the 8th, 8 p.m.), a documentary narrated by Bill Paxton, who was present at the Dallas parade during Kennedy's killing.
Reelz
Replaying throughout the month of November, documentary JFK: The Smoking Gun posits that Oswald was the assassin, but the other bullet that killed Kennedy came from an accidental firing of a Secret Service agent's gun.
Smithsonian
The Day Kennedy Died airs Nov. 17 at 9 p.m. Narrated by Kevin Spacey, the two-hour goes in-depth for a minute-by-minute account of that fateful day.
TLC
Letters to Jackie: Remembering President Kennedy airs Nov. 17 at 9 p.m. and will feature 20 celebrities — including Anne Hathaway and Channing Tatum — reading aloud from some of the more than 800,000 condolence letters sent to the White House following the assassination.
Turner Classic Movies
On Nov. 21, TCM will air four JFK-related documentaries by Robert Drew, beginning with Primary about the 1960 Democratic primaries; followed by Adventures on the New Frontier, about Kennedy's first days in office; then Crisis Behind a Presidential Commitment about JFK's fight for racial integration; and then Faces of November, about the president's death. Other films to be shown include Mel Stuart's Four Days In November (1964) and the 1963 drama PT 109, about Kennedy's World War II service.
[This article was originally published on Nov. 7th, 2013; Re-published on Nov. 14]
— —
>> Follow Andrew Kirell (@AndrewKirell) on Twitter
Have a tip we should know? tips@mediaite.com