Bill Maher's Offer To Trump On Leno: I'll Donate $5M If He Proves He's Not 'Spawn' Of Orangutan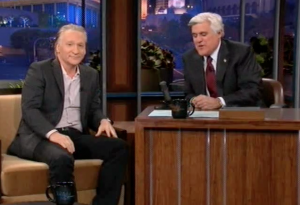 Bill Maher paid a visit to Jay Leno on Monday — to talk about Mitt Romney, the GOP, and… Donald Trump. After a few shots at Romney, Maher tackled his sentiment toward Trump, making him an offer he couldn't refuse.
Maher took a minute to remark on Tagg Romney's remark that his father never really wanted to be president. "No one's ever wanted the job more," Maher countered. "If a poll had come back that said he would get one more vote as a black woman…he would have lopped off his penis, got a weave, and changed his name to Latisha in a minute."
"Long after you and I are dead and gone, Jay," he continued, "when there is nothing but roaches and plastic bags, there will be Mitt Romney singing 'God Bless America' in a hazmat suit."
But the digressed, with Leno asking about Maher's "beef" with Trump. "I'm not looking for a feud with Donald Trump," he replied. "And I certainly only wish the best for the syphilitic monkey who does his Twitter feed."
Maher went on to elaborate that "what got [Trump] so mad was, we did a new rule one week that, supposed that perhaps Donald Trump had been the spawn of his mother having sex with orangutan…"
Because "the color of his hair and the color of an orange orangutan is only two things in nature of the same color."
"I hope it's not true," Maher added.
Hitting Trump for the offer he made to President Obama to prove his citizenship, Maher made an offer of his own: $5 million to the charity of Trump's choice (the "Hair Club for Men," the "Institute for Incorrigible Douchebaggery") if Trump proves Maher's hypothesis to be wrong.
Watch below, via NBC:

Have a tip we should know? tips@mediaite.com