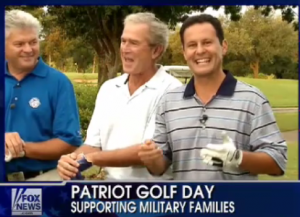 It's official; Brian Kilmeade is the luckiest of Fox's Friends. While Gretchen Carlson was stuck in the studio talking about news and stuff, Kilmeade got to go to Waco, Texas and play golf with none other than Former President George W. Bush on behalf of Patriot Golf Day. Since most of us will never get to hit a few with a president, feel free to pay Kilmeade back by critiquing his swing in the comments.
Kilmeade won't get to play a full round with Bush (the former president will be playing with a number of notable veterans including Purple Heart winner (and Paralympics athlete) Heath Calhoun but he did get to help Bush open the event with a tee off and, we're going to guess, this is probably going to go up there as one of his favorite broadcasting experiences. It'll at least be on par (ugh, no pun intended) with hanging out with Victoria's Secret models. Hmm, chatting with lingerie models and playing golf with a president. We may criticize the Fox & Friends gang from time to time but they've got a pretty cool job.
Patriot Golf Day is a fundraiser organized by the Folds of Honor Foundation, a charitable organization "that provides postsecondary educational scholarships for the children and spouses of military men and women disabled or killed while serving our great nation." As if anyone needed an excuse to go play golf on Labor Day weekend. You can learn more about the event here.
Have a tip we should know? tips@mediaite.com