Chris Matthews Shut Down Amid Anti-Birtherism Tirade: 'The Only Person Talking About That Is You'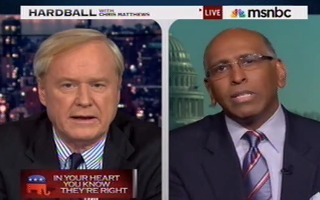 On Thursday, Chris Matthews hosted the American Conservative Union President Al Cardenas and former Republican National Committee Chairman Michael Steele on his program where he interrogated both guests about the Conservative Political Action Conference's decision to invite real estate mogul Donald Trump to address the conference. During that discussion, Matthews was shut down by Steele after Matthews tried to indict Trump for questioning President Barack Obama's place of birth in the early part of the Obama administration.

RELATED: Palin And Trump Score More CPAC Speaking Time Than Paul, Rubio And Ryan
Matthews began the interview by grilling Cardenas over his decision to invite Trump and to allot him more speaking time than either Govs. Rick Perry, Bobby Jindal or Scott Walker. "Why more time for the number one birther in the country?" Matthews asked pointedly.
"He is nutty on the issue of birtherism," Matthews insisted. "And that's what he's known for now. Not building towers into the sky."
"I think that characterization can be put behind Donald Trump," Steele suggested.
"He won't put it behind him," Matthews shot back.
Steele insisted that Trump had moved on from his insistence that the president's place of birth was outside the United States. "He talks about it every time he's asked about," Matthews asserted.
"Let's see what the man says tomorrow, number one," Steele said. "I think Donald Trump is going to reframe the arguments tomorrow – from the grassroots up…"
"How do you reframe the birther issue," Matthews interjected.
"You don't talk about it," an increasingly frustrated Steele replied. "Chris, nobody's talking about it but you."
"You know why? Because people who think the president is an illegal immigrant shouldn't be talking out loud almost anywhere," Matthews responded. "They think he's an illegal immigrant. That he snuck into the country, broke our laws, and is a fraud."
"All that is now behind us," Steele asserted.
Watch the clip below via MSNBC:
> >Follow Noah Rothman (@NoahCRothman) on Twitter
Have a tip we should know? tips@mediaite.com