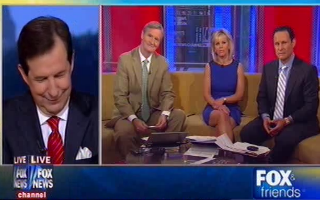 Fox News Sunday host Chris Wallace appeared on Fox & Friends on Friday where he addressed a radio interview he gave on Thursday where he told the host live on the air that he was getting pulled over and could be getting arrested. He confirmed on Friday that he did receive a ticket for driving while talking on his cell phone but declined to describe how large the fine was for that violation.

RELATED: No, Fox News' Chris Wallace Was Not Arrested During Radio Interview
The Fox hosts played a clip of the radio interview for Wallace in which he told the hosts he was getting pulled over:
"I'm talking to you on a cell phone and there's a police man here and I probably shouldn't have been talking on a cell phone," Wallace told the St. Louis radio program Allman In the Morning. "So, uh. I'm about to get arrested. Good-bye."
Wallace said that he was running late and was unable to talk on his hands-free device or pull over in time to do the interview.
"A policeman saw me and he came up behind and he said, 'you were talking on your cell phone,' said Wallace describing the altercation. "I said, 'I was talking on the radio.' He said, 'I don't care' – as he shouldn't have – and he gave me a ticket."
"What was it," asked co-host Gretchen Carlson. "How much?"
"I kind of feel like I've said everything I need to say, Gretchen," replied Wallace.
Mediaite reached out to Fox for comment on Thursday and reported then that Wallace was not, in fact, arrested.
Watch the segment below via Fox News Channel:
Follow Noah Rothman on Twitter
Have a tip we should know? tips@mediaite.com