Obama Admin To Halt Deportation, Grant Work Permits To Young Illegal Immigrants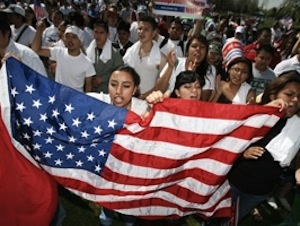 A policy change from the Obama administration will stop deporting younger illegal immigrants — who came to the U.S. as children "and have since led law-abiding lives" — and grant them work permits, the Associated Press reports. The move will affect as many as 800,000 immigrants who have feared deportation.
The decision bypasses Congress and partially achieves DREAM Act goals, "a long-sought but never enacted plan to establish a path toward citizenship for young people who came to the United States illegally but who have attended college or served in the military."
Details of the plan, via the AP:
Under the administration plan, illegal immigrants will be immune from deportation if they were brought to the United States before they turned 16 and are younger than 30, have been in the country for at least five continuous years, have no criminal history, graduated from a U.S. high school or earned a GED, or served in the military. They also can apply for a work permit that will be good for two years with no limits on how many times it can be renewed. The officials who described the plan spoke on the condition of anonymity to discuss it in advance of the official announcement.
The policy won't lead toward citizenship, but will take away the risk of deportation while allowing the immigrants to work legally.
"Many of these young people have already contributed to our country in significant ways," Homeland Security Secretary Janet Napolitano wrote in a memo. "Prosecutorial discretion, which is used in so many other areas, is especially justified here."
The "extraordinary move comes in an election year in which the Hispanic vote could be critical in swing states like Colorado, Nevada and Florida." It addresses a a priority the Latino electorate has been outspoken about.
Have a look at the official press release here.
Have a tip we should know? tips@mediaite.com