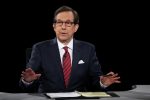 Chris Wallace is a T.V. anchor and political commentator. He is currently the host of Fox News Sunday. Before Fox, he worked from ABC from 1989 to 2003 and NBC from 1975 to 1989. He is the son of the CBS 60 Minutes reporter Mike Wallace.
Chris Wallace Q&A
What political party is Chris Wallace?
Where did Chris Wallace go to college?
Chris Wallace Noteworthy Stories
July 14, 2019
Chris Wallace confronted White House counselor Kellyanne Conway over conditions at the boarder.
March 30, 2019
Chris Wallace corrects facts on Russia investigation even though it will drive some Fox viewers 'nuts'.
May 12, 2017
Chris Wallace comments on Trump administration: "It took my breath away."
Latest Chris Wallace Stories