Santorum Called 'Doofus' For Claiming English Must Be 'Main Language' For Statehood
CNN Guest Calls Santorum 'Doofus' Over Puerto Rico Gaffe, Will Cain Defends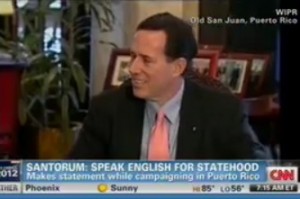 While campaigning for his share of Puerto Rico's 23 delegates, presidential up-and-comer Rick Santorum deployed an odd strategy: insisting that federal law requires English to be the "main language" in order to achieve statehood. On Thursday morning's Starting Point, political strategist Hank Sheinkopf called Santorum a "doofus" for making the gaffe, but CNN contributor Will Cain pointed out that the former Pennsylvania Senator's claim wasn't completely out of left field.
While campaigning in Puerto Rico, which is holding a statehood referendum in November, Santorum told local newspaper El Vocero that ""As in any other state, you have to comply with this and any federal law. And that is that English has to be the main language…There are other states with more than one language as is the case in Hawaii, but to be a state in the United States, English has to be the main language."
On CNN's Starting Point this morning, host Soledad O'Brien pointed out that "that's not really true, is it?"
O'Brien tossed the question to Rep. Pedro Pierluisi (D-Puerto Rico), who agreed, "It's incorrect to say that there's a federal law imposing English as the only official language in our states. The constitution doesn't provide anything along those lines either."
Rep. Pierluisi added that "In Puerto Rico, as a matter of fact, we have two official languages, English and Spanish," and said that "Santorum's view is narrow and limiting view of what America is all about. English is the predominant language in the US and will continue to be so, whether Puerto Rico becomes a state or not. In Puerto Rico, 90% of our parents want their children to become fluent in English. So, it's a nonissue and shouldn't be a factor in determining whether Puerto Rico can join the union or not."
Asked about the political implications of Santorum's gaffe, Sheinkopf slammed Santorum, saying "He ought to save his money and buy a house," and adding that "for him to engage in this kind of behavior, Santorum shows he has become sort of a doofus on the matter."
Starting Point regular Will Cain waded in to defend Santorum. "Although (there is) no federal law requiring English the official language, when Louisiana was brought into the country, the government said you need to adopt English as your official language."
He's referring to the Louisiana Enabling Act, which says that "the laws which such state may pass shall be promulgated and its records of every description shall be preserved, and its judicial and legislative written proceedings conducted in the language in which the laws and the judicial and legislative written proceedings of the United States are now published and conducted."
Cain also referenced a similar act passed prior to Oklahoma's achievement of statehood, which required public schools with classes taught in English, and concluded "Let's not paint Santorum as a doofus. This is not unprecedented."
It was a valiant effort, but there's a huge difference between a law requiring states to adopt English as an official language, and isolated measures passed in a political climate from over a century ago. While it might help with the Santorum fan base that would love to regress back into our nation's comfy womb, his comments probably won't help with modern-day voters, Puerto Rican or otherwise.
The other interesting dynamic on this clip is that Sheinkopf seemed to be under the impression that Rep. Pierluisi was done with the segment when he lit into him, and the idea of Puerto Rican statehood passing. "This is absolutely nuts," he said. "Puerto Rico is not going to be a state and this is not the first time there's been a referendum on the issue, and it's nonbinding. He's not a congressman, he a resident commissioner and he has no power, the fellow we just saw on television."
It was a bit of a surprise, then, when several minutes later, Soledad O'Brien said "Let's go back to the Congressman."
Rep. Pierluisi was gracious, if a bit piqued, in his response, telling O'Brien "I am a member of Congress, I represent 3.7 million American citizens in Congress. My title is Resident Commissioner, but don't forget, Puerto Rico is part of the US."
Here's the clip, from CNN's Starting Point:
Have a tip we should know? tips@mediaite.com