CNN's Don Lemon Questions Erick Erickson About 'Swatting' Attacks On Conservative Bloggers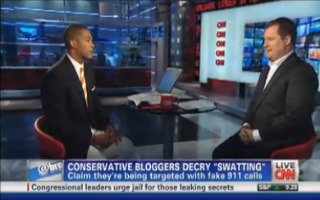 On Friday, CNN's Don Lemon spoke with conservative blogger Erick Erickson about "swatting," or making it appear as if another, targeted person is making fraudulent 911 calls. And, as Lemon warned viewers, the results could be fatal.
Previously, we reported how Senator Saxby Chambliss of Georgia had written to the Department of Justice about the matter:
"The perpetrators appear to be targeting individuals who are vigorously exercising their First Amendment rights to political speech," Chambliss writes in a public letter to Attorney General Eric Holder. "As you know, these reported efforts to intimidate those who choose to enter the political forum and express their opinions are in conflict with the founding principles of our nation."
RELATED: GOP Senator Calls On DOJ To Investigate 'SWAT-ting' Attacks Targeting Conservative Bloggers
Erickson told Lemon he is targeted all the time, but this marks the first time his wife and child are included in someone's attack. "It's surreal to hear someone calmly pretend to be me saying they've shot my wife and they're going to shoot someone else," he shared. Lemon agreed, adding that the call upset him, too.
As it turns out, Erickson continued, one of the officers who arrived at the scene that night recognized him from CNN, and inquired about an "accidental shooting." Another officer kept his distance, holding his hand over his gun while Erickson's three-year-old stood nearby. Other officers had the house surrounded.
Lemon wondered whether Erickson might have any ideas as to who is behind the calls. Erickson noted that three conservative bloggers have been victims of swatting, all by an individual with the same voice. The common thread, he revealed, is that all three have written about a bomber / activist Brett Kimberlin.
Lemon was quick to point out that "that's not our reporting" and that here is no concrete evidence tying Kimberlin to the calls.
"I don't think that it's him," Erickson clarified, adding that it could simply be a fan of Kimberlin's who is at fault.
Lemon followed by asking whether it was too early to mark this as a "liberal plot" against conservatives. Later, he asked whether "when something like this happens, is this a call for people to understand that politics can sometimes, depending on the rhetoric and civility, can be life or death situations?" Should we, he added, "tone down the rhetoric"?
"Yes and no," Erickson replied, noting that political rhetoric has always been heated, but that actions such as this shouldn't exist in the United States.
Have a look, via CNN:
Have a tip we should know? tips@mediaite.com