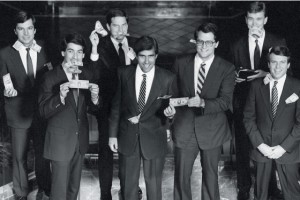 President Obama's decision to go after Mitt Romney's claims of job creation while he was at Bain Capital has sent the media and many Democrats scurrying to form a defensive line in front of private equity, and convince the President that it won't work. According to a couple of new reports, however, it turns out that the President's widely-mischaracterized line of attack, that the object of private equity is not job creation, is resonating with voters in swing states.
First, Yahoo! News' Holly Bailey reports on a new poll of twelve swing states:
A new Purple Strategies poll found a plurality of voters in 12 key battleground states—Colorado, Florida, Minnesota, Nevada, New Hampshire, New Mexico, North Carolina, Ohio, Pennsylvania, Virginia and Wisconsin—are skeptical of Romney's argument that private equity companies create jobs. Among those polled, 47 percent say "private equity hurts workers," compared to 38 percent who say it "helps" the economy.

In Ohio, the numbers were starkest: 49 percent of those surveyed said private equity companies put profits over workers, compared to 33 percent who said private equity "helps" the economy." Eighteen percent said they were "not sure."

In Florida, the gap wasn't as big, but it still favored Obama:  47 percent of those polled said private equity hurts workers, compared to 40 percent who said it helps the economy. Fourteen percent were "not sure."

Meanwhile, voters in two other key swing states—Colorado and Virginia—were evenly split on their views of private equity.
Despite that result in the Virginia poll, Amy Walter of ABC News' The Note sees reason to believe that the Bain scrutiny is resonating with voters in that state:
Bill Clinton and many in the chattering class may think that the attacks on Mitt Romney's record at Bain are a flop, but a group of women swing voters at two focus groups I watched last night suggest that they are working. While these women in Las Vegas and Richmond, Virginia still don't know much about Mitt Romney, a number of them volunteered that they were concerned about what they had heard about Romney's record from TV. Said Rebecca from Richmond, "the whole thing where factories have shut down — that concerns me."
The Obama campaign has moved on, for the moment, to Romney's record as Massachusetts Governor, amid a flurry of unsupported claims that the Bain strategy wasn't working, but they're sure to revisit the strategy in the coming months, and perhaps when they do, the naysayers will look at the facts and pipe down.
If they're smart, the Obama campaign will also draw a brighter line connecting their examinations of Bain and Gov. Romney's fluctuating claims of job creation.
Have a tip we should know? tips@mediaite.com