De Blasio Responds to Roker: Different 'to Run a City' Than 'Give the Weather on TV'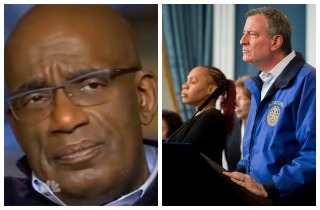 NBC meteorologist Al Roker tore into New York City Mayor Bill de Blasio on Thursday over his latest decision to keep New York City public schools open even amid a crippling nor'easter. "It's going to take some kid or kids getting hurt before this goofball policy gets changed," Roker said. Asked to respond to Roker's critique, Gotham's newest mayor dismissed the criticism and said that it is different to "run a city" than to "give the weather on TV."

Roker blasted the mayor for accusing the National Weather Service for underplaying how significant the snowfall would be overnight on Thursday. Roker insisted that, contrary to de Blasio's claim, the NWS predicted up to 8 inches of snowfall overnight.
RELATED: Al Roker Rails Against NYC Mayor de Blasio: 'Don't Blame Weather for YOUR Poor Policy'
"How dare [de Blasio] throw NWS under the school bus," Roker said. "Forecast was on time and on the money."
"I respect Al Roker a lot," de Blasio responded. "It's a different thing to run a city than to give the weather on TV."
CNN's Kelly Wallace, reacting to the dust up between Roker and de Blasio, noted that it is easy for those with the means to criticize the mayor, but that many lower-income New Yorkers with children do depend on the schools to manage their kids while they are at work.
Watch the clip below via CNN:
h/t New Yorker
[Photo via NYC Mayor's Office/Screen Grab via NBC's Dateline]
— —
> >Follow Noah Rothman (@NoahCRothman) on Twitter
Have a tip we should know? tips@mediaite.com