Dem Rep. Who Voted Against Iraq: Media Should Listen to Me Instead of McCain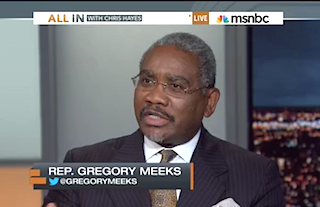 Rep. Gregory Meeks (D-NY) was one of 133 congress members who voted against the Iraq War resolution in 2002, but as he told MSNBC's Chris Hayes Monday night, there aren't too many media bookers looking for his expert opinion on the revived subject of Iraq. With All In as the exception, Meeks said most news shows seem to be more interested in what Republicans like Sen. John McCain (R-AZ) have to say.
When Hayes asked about general mood in Congress when it comes to further military intervention in Iraq, Meeks said Democrats especially are far less likely to support action than they were in 2002. "Even some members who voted for the war now says that's the one vote they regret most in Congress," he said, "so they don't want to make that same mistake again."
"Unfortunately, what I'm hearing from some of my Republican colleagues, as you noted on the Sunday shows, they don't seem to have learned the lesson of 2002," Meeks added.
RELATED: John McCain and Lindsey Graham Actually Disagree on Something
"Is your office getting called to come on television to talk about Iraq?" Hayes asked the congressman. "I mean, are people saying, 'Iraq's in the news, you know who we should talk to? We should talk to Congressman Gregory Meeks.'"
Meeks confirmed that that was not the case, saying, "which amazes me why each and every time they go right to John McCain." He added, "I don't know when John McCain has had it right. Thank God the American people were smart enough not to elect him president of the United States."
"Why does the news media go to John McCain to ask him any time there's anything happening, because you know he's going to be, 'go to war, send troops.'? It just doesn't make sense," Meeks continued. "I would like to hear from other individuals, and there's plenty on the Hill, who have a contrary view. They should be interviewed and asked about which way to gom because they did get it right."
Watch video below, via MSNBC:
[Photo via screengrab]
— —
>> Follow Matt Wilstein (@TheMattWilstein) on Twitter
Have a tip we should know? tips@mediaite.com