Don Lemon Defends 'Controversial' Comments On The View: 'That's Advice My Mother Gave Me In Kindergarten'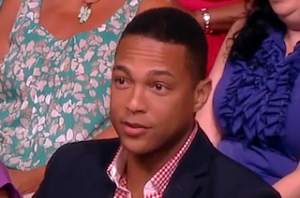 CNN's Don Lemon would have been a great guest on any talk show Monday after the explosive weekend he had telling viewers Bill O'Reilly "doesn't go far enough" in his criticism of black culture. He stayed off the major morning shows, but there he was sitting in the audience of The View, apparently as the guest of Republican strategist and temporary co-host Ana Navarro.
The camera panned over to Lemon for a quick, impromptu interview about the statements he made that have so many people on both sides of the racial divide fired up this week. He explained to the hosts that he was simply trying to give "suggestions" to African-Americans like pulling up their pants and stop saying the "n-word." Joy Behar responded by asking, "Which part is controversial?"
Lemon didn't see why what he said caused such a stir, saying, "That's advice my mother gave me in kindergarten." He said the pants issue, for example, was just a "symbol of respect," adding he wasn't giving advice on how to "end racism" but rather on "self-empowerment" for African-Americans.
Sherri Shepherd hit the nail on the head when she said it was Lemon's comments involving Bill O'Reilly people really "took umbrage" with. "I don't want to give Bill O'Reilly license to say anything," Shepherd said, "because he's never been a young black man."
Watch video below, via ABC:
And watch Lemon's original CNN comments, in case you missed it, below:
—
>> Follow Matt Wilstein (@TheMattWilstein) on Twitter
Have a tip we should know? [email protected]