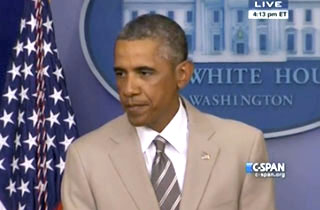 Whatever, Russian invasion of Ukraine, or ISIS's growing presence in the Middle East, or America's racial tension emblematic in Ferguson. Yesterday's presidential press conference was all about how President Barack Obama wore a horrifying tan suit; or, as Jake Tapper put it, had "the audacity of taupe."
The bland, unpatterned tan suit sparked even more Twitter jokes and at least five mentions on cable news last night, both supporting and condemning the tan suit:
I cannot – I WILL NOT – get over the tan suit. This is worse than 1000 9/11s.

— rob delaney (@robdelaney) August 29, 2014
Not only is Obama wearing a tan suit, it seems way too big for him too. It looks like he's about to be bar mitzvahed in Miami.

— Ben Jacobs (@Bencjacobs) August 28, 2014
Really not liking this Obama tan suit. Sends the wrong signals to our allies.

— Andrew Kaczynski (@BuzzFeedAndrew) August 28, 2014
I see no problem with the suit. pic.twitter.com/ZFFt75FedU

— John Dingell (@john_dingell) August 28, 2014
The scorn forced White House Press Secretary Josh Earnest to address the faux pas. "The President stands squarely behind his decision yesterday to wear his summer suit at yesterday's news conference," Earnest said at the beginning of his press briefing. "It's the Thursday before Labor Day. He feels pretty good about it."
Side note: I once worked in a menswear store with an enormous suit collection, where I met a dapper Cape Verdean man named Jose. He'd been in the industry for twenty years, and told me that tan colors were terrible for people with darker skin and would visually "wash" out their complexion. According to Jose, they'd be better off sticking to pale linens, pastels, and very light khakis when it comes to picking summer suits — and if one must wear a tan suit, to provide some sort of color contrast. Obama's worn tan suits with some success before by pairing it with a blue tie, but a bland, gray tie on a brown suit is just horrifying.
I petition we start calling this #BadTieGate instead. And also #PoorlyTailoredSuitGate.
Watch below via MSNBC:

[Image via screenshot]
—
>> Follow Tina Nguyen (@Tina_Nguyen) on Twitter
Have a tip we should know? tips@mediaite.com