Ed Schultz Apologizes On The Ed Show For Calling Laura Ingraham A 'Right-Wing Slut'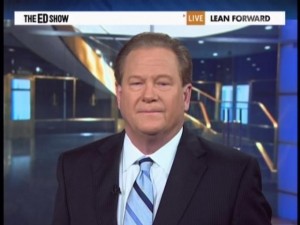 MSNBC's Ed Schultz, suspended by MSNBC Wednesday evening for calling conservative radio host Laura Ingraham a "right-wing slut" on his nationally syndicated radio show, addressed his comments on the final Ed Show episode before beginning what was to be week-long suspension. In a remarkably fulsome and sincere apology, though, Schultz announced that he was taking himself off the air for an "indefinite" period.

Ingraham responded to Schultz's comments on her Facebook page with the good-humored, if clichéd, "Ed who?"-style reaction:
Re. the crude comments made about me by Ed Schultz on his radio program: First, I was surprised to learn that Ed Schultz actually hosted a radio show.  Is it only available online?  Second, I have to get back to recording the audio edition of my new book "Of Thee I Zing." Now I'm tempted to insert one additional zing–about men who preach civility but practice misogyny.
In Schultz's defense, I don't recall him ever "preaching civility," as he complained loudly over the temporary retirement of his "Psycho Talk" segment in the wake of the Tucson tragedy. Then again, scant hours after calling Ingraham a "slut," Schultz was lecturing FBN's Eric Bolling over remarks about President Obama "chugging forties."
Ingraham also reacted to Schultz's suspension with a quip, this time on Twitter:
MSNBC suspends Schultz. Oh great, now his ratings will go up.
Schultz's apology was as full and heartfelt as any I have ever seen from a media figure (as it should have been). He rightly called his comments "vile," and revealed that he tried to reach Ingraham by telephone to apologize personally, but was only able to leave a message. More than anything, Schultz seemed to grasp the gravity of what he had said, and his shame and embarrassment were palpable as he asked Ingraham for forgiveness.
Here's the video of Schultz's apology (after which fill-in Thomas Roberts took over the show), from MSNBC:
As Mediaite's Jon Bershad has already noted, Schultz's remarks were completely unacceptable. Even if you grant that he meant, all along, to use the slightly walked-back "talk slut" to metaphorically convey that Ingraham will say anything to get attention (a notion that even some of my conservative friends generously allow), it is still a hostile, misogynist metaphor, and an attack on all women. Schultz demonstrates his comprehension of this when he includes his wife in his apology.
While I generally don't favor dismissals over (even extremely objectionable) speech, MSNBC sends the right message with its suspension of Schultz. While they could have ducked behind the fact that Schultz's remarks were made on his radio show, and not the network, they chose to discipline Schultz anyway. To his credit, Schultz (according to MSNBC) offered the one week suspension at a disciplinary meeting. While the suspension is considerably longer than those meted out to Keith Olbermann and Joe Scarborough for other offenses, it is still shorter than the term served by David Shuster when he remarked that the Hillary Clinton campaign was "pimping out" daughter Chelsea. Now that it has been defined as "indefinite," it remains to be seen just how long Schultz is absent.
Schultz's remarks were more overt than other examples of misogyny in the political media, but by the same token, his apology and self-imposed exile are also an anomaly. Credit Schultz for having the courage to really take responsibility for his actions, unlike so many others.
Have a tip we should know? tips@mediaite.com