Former CIA Terrorism Director To Matthews: Boston Bombs Bear The 'Hallmark Of Al Qaeda'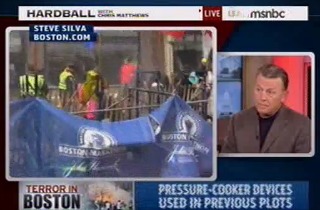 The type of improvised explosive devices used in the attack on the Boston Marathon on Monday bear "the hallmark of Al Qaeda," according to former CIA Counterterrorism Director Larry Johnson. In an interview with MSNBC's Chris Matthews on Tuesday, Johnson said that the devices used are popular on the India-Pakistan border and are favored by Al Qaeda militants. He was cautious, however, not to link the attacks to foreign-based terror groups.

RELATED: Obama Calls Boston Bombing 'Terrorism,' But Confirms: 'The American People Refuse To Be Terrorized'
"It's important to note that that particular model – that type of explosive has been very popular along the Pakistan-India border," said Johnson.
He described the type of substances that a militant would put in a pressure cooker IED and said that it was unlikely that the device contained an explosive substance used by professional armed forces.
Matthews asked how difficult it would be for an amateur bomb maker to construct two deadly devices which are timed to go off at approximately the same moment.
"Take your scale of zero – where you can't even open a door – and ten – where you're the world's best bomb maker; this is about a six," Johnson replied. "This has been a hallmark of Al Qaeda in the past."
"Closer to organized terrorism groups than a crackpot?" Matthews asked. Johnson replied that he thought that was a likely scenario.
Watch the clip below via MSNBC:
> >Follow Noah Rothman (@NoahCRothman) on Twitter
Have a tip we should know? tips@mediaite.com