Former GOP Chair Michael Steele Is In Talks With MSNBC To Become Contributor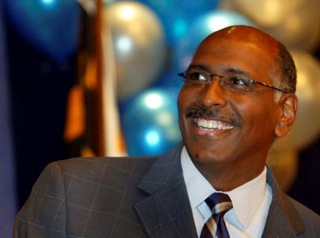 Former RNC Chair Michael Steele is negotiating a deal to become a contributor for MSNBC, according to The Hill. Steele had hinted to a future in cable news since his defeat in the national party elections earlier this year, and had been making appearances on the network, most notably with Rachel Maddow and most loudly with Ed Schultz.
The Hill explains that Steele's talks aren't complete, but if accepted, Steele would become an official MSNBC political analyst:
Former Republican National Committee (RNC) Chairman Michael Steele is in negotiations with MSNBC to be a political analyst, according to sources.

Steele would be a prominent Republican voice on a network known for its liberal television hosts. If the deal goes through, he would join the cable network in time to offer commentary on the 2012 elections.
Hot Air is calling this an unmistakable sign of the apocalypse, but Steele in many ways is a perfect fit for MSNBC, in the same way Juan Williams and Alan Colmes make for good television over on Fox. He can passionately defend his points without exhibiting any bitterness, and, in fact, it seems he relishes being persistently challenged in his ideology by everyone around him. In his previous appearances with Maddow, the two were as friendly as they were fierce in debate, and Steele is exactly what MSNBC is routinely accused of lacking: a strong Republican voice (the most prominent voice on the right, kind of, on the network is arguably Slate reporter Dave Weigel, a pro-life libertarian who landed on MSNBC after the far-right made a scandal of his anti-Tea Party comments on a private email list). The deal isn't set in stone, however,  and may take a few more appearances for him to settle in.
Have a tip we should know? [email protected]