Fox's Ablow Connects Bergdahl's Ballet Moves to Obama 'Wanting Out of America'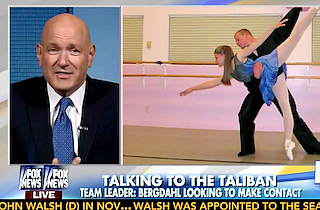 The hosts of Fox & Friends and Fox News psychiatric consultant Keith Ablow set a land-speed record Wednesday morning when, during a segment ostensibly psychoanalyzing freed Army Sgt. Bowe Bergdahl, they traced the soldier's participation in a ballet to President Barack Obama's essential un-Americanness in two minutes flat. That they did it while admitting that they knew next to nothing about Bergdahl is what makes it art.

"The fact that he was a dancer and a lifter — not a weightlifter, but I guess he would lift the ballerina — what does that mean?" Brian Kilmeade asked, with an assist from fellow host Steve Doocy.
"Supposedly he was recruited by these girls to have that role," Ablow replied. "I think front and center on any stage is this guy's M.O.: unless it doesn't feed him narcissistically — you can't give him a job unless you're going to tell him you're the star and we're going to keep you at a throttle of twelve out of ten."
And then the pinpoint turn: "I've been saying it before, Barack Obama does not have the will of the American people, Americanism, in his soul. This swap, somebody who may not feel very American for five people who definitely don't, is symptomatic of that. It was bound to happen when you have a leader who doesn't affiliate with patriotism."
"Well, he definitely wanted out of Afghanistan and maybe it's his way of closing GTMO regardless of the consequences," Doocy said.
"He wants out of America, my friend," Ablow said. "Trust me."
Ablow prefaced the entire exchange by conceding he had not evaluated Bergdahl or his parents "formally," which is TV-psychospeak for "at all."
Watch the clip below, via Fox News:
[Image via screengrab]
——
>> Follow Evan McMurry (@evanmcmurry) on Twitter
Have a tip we should know? tips@mediaite.com