Fox's Stuart Varney Debate with Anti-Fracking Activist Explodes: 'The Interview Is Over!'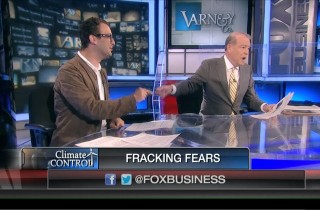 Imagine what would happen when you put anti-fracking activist Josh Fox in the same room as Fox Business Network host and pro-fracking activist Stuart Varney and expected them to have a thorough debate on the controversial natural gas extraction method known as hydraulic fracturing.
If you guessed that the conversation quickly turned hostile and ended early, you would be correct.
For context: The Environmental Protection Agency (EPA) released a study last week that claimed in its executive summary that there is insufficient evidence to suggest "fracking" has caused widespread environmental issues largely related to drinking water. The study has been used by pro-fracking camps as proof that the practice does not, for instance, cause drinking water to become flammable (as Josh Fox's Gasland film famously claimed); and anti-fracking activists like Fox have countered that the study was clearly not intended to be comprehensive.
While appearing on Varney & Co. this morning, the Gasland director suggested the EPA tempered its findings with the aforementioned executive summary so as to not to hurt the White House or President Barack Obama's overall energy strategy.
"You think this administration wants to frack?" Varney incredulously asked in return. "That's news to me."
The spirited debate became intense, however, when Fox brought up that Varney had mentioned off-air, during commercial break, that he owns land in Upstate New York and would not allow fracking under his property.
"Why would you not frack on our own property," Fox confronted Varney, "and then prescribe it for other people in America?"
"Because I'm in the watershed," Varney replied, adding that before fracking had ever been introduced, locals would "joke" about being able to light their tap water on fire, thus disproving causality arguments about hydraulic fracturing and drinking water.
"You are absolutely wrong," Fox countered. "I do believe you are lying right now."
"Lying?" Varney snarled, as Fox continued talking. "The interview is over, young man. I am not lying. I did it myself. Thank you. Goodbye. You are out of here, son. You are out of here. Don't call me a liar. Don't do that, son. Cut. That's it. Thank you very much. Will you please leave?"
Watch the full thing below, via FBN:
[h/t Salon]
[Image via Fox Business Network/screengrab]
— —
>> Follow Andrew Kirell (@AndrewKirell) on Twitter
Have a tip we should know? tips@mediaite.com