George Stephanopoulos Confronts Santorum About Comments Over The Role Of Women And Modern Feminism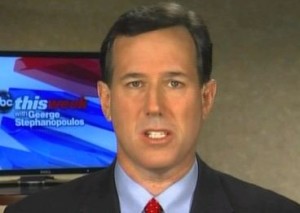 Rick Santorum's three victories last week gave his campaign a brief moment of victory before getting bogged down in another controversy over social issues. Santorum has said publicly that he has concerns about women serving in combat alongside men because of how it can impact troops' emotions on the battlefield, and in one of his books argued that modern feminism has destroyed the traditional family. On This Week today, George Stephanopoulos brought up Santorum's comments and asked him to clarify exactly what he meant by these remarks.
RELATED: Barbara Starr On Santorum's 'Emotions' Comments: 'This Country Could Not Go To War Without Its Military Women'
Santorum first noted that the book in which he made his controversial comments about the place of a woman in the family and the home was co-written by his wife Karen. Mrs. Santorum chose to stay at home and take care of her children, and as the Republican candidate said, she felt she was being looked down upon by certain parts of society for being content with homemaking.
"All I've said is… they should be affirmed in their decision like everybody else. And that these are choices, they're tough choices. You know, I grew up in a home where my mom and dad both worked. This was back in the 50s and 60s, which is very unusual. My mom actually made more money than my dad, so I grew up in a home where that was something that was a given, women in the workplace, and something that I obviously accepted. But I think it's important that women outside the home and inside the home are affirmed for the choices they make, that they are in fact choices, and society… treats them in a sense equally for whatever decision they make that's best for them."
Santorum agreed that there should be "equal opportunity" to rise up in the workforce, and continued to insist he has nothing against working women.
Watch the video below, courtesy of ABC:
Have a tip we should know? tips@mediaite.com
Josh Feldman - Senior Editor