Goldie Taylor On Limbaugh Advertisers: Could CNN Afford To Lose 140 Advertisers? No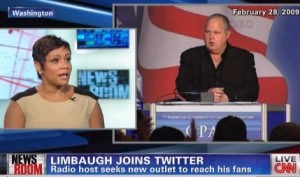 Appearing on CNN Saturday with anchor Don Lemon, cultural critic and advertising veteran Goldie Taylor opined on Rush Limbaugh's hemorrhaging advertisers and whether his show will be ultimately able to survive the firestorm stemming from his remarks to Georgetown University law student Sandra Fluke. Taylor observed that Limbaugh's brand had been so damaged by the controversy, it would be tough for him to keep his program going business as usual.
Lemon noted that Premiere Networks, the syndicator of Limbaugh's show, plans to suspend national advertising for two weeks.
RELATED: TheGrio Editor Goldie Taylor To Mediaite: 'My Own Personal Politics Are Quite Conservative'
"Is Rush's show in jeopardy?" Lemon asked Taylor.
"He's in trouble. You know, Don, you know I own an advertising agency in Atlanta. In that agency we buy media on behalf of national and global brands. And for a brand as controversial –and let me get this straight. Rush Limbaugh is a brand and a business. So for my brand to invest in his business under this kind of dark cloud isn't going to happen," Taylor explained. "I would be breaking my fiduciary duty. It would be not strategic on my part. and many of my colleagues are not doing it."
"The truth is he's lost 140-plus advertisers who are suspending or completely terminating their relationship with him," Taylor observed. "Let's look at CNN — could an organization as big as CNN afford to lose 140 advertisers? No. When he says he is not in trouble he simply isn't not telling the truth. He never apologized or gave the advertisers a road back."
Watch Taylor's analysis below via CNN:

Have a tip we should know? tips@mediaite.com