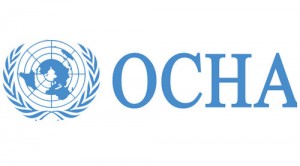 Khulood Badawi is a United Nations employee working in the Office for the Coordination of Humanitarian Affairs, and she has come under fire in the last few days for tweeting a photo of a dead Palestinian girl and attributing it to a casualty of Israeli military forces. The tweet has now resulted in the Israeli ambassador the United Nations demanding that OCHA fire her.
RELATED: A Very Special Up With Chris Hayes: Bravely Tackling Israel And Mideast Peace
Badawi's Twitter name is "Long live Palestine," and her user description says she is "Tweeting for Palestine, Tweeting for Freedom." She makes frequent use of the hashtag #GazaUnderAttack. The tweet in question, according to the Jewish Telegraphic Agency, read "Palestine is bleeding … another father killed by #Israel … another father carrying his child to a grave in #Gaza."
But it turns out that the girl in the photo was not killed by Israeli forces.
The photo was later identified as a 2006 Reuters photo; the girl in the photo had died in a playground or car accident, according to various reports, including information supplied by the news agency.

"She was not killed by Israeli forces," Ron Prosor, Israel's ambassador to the U.N., wrote in a letter to the U.N. emergency coordinator, Valerie Amos. In the letter he called for Badawi's immediate dismissal.
Fox News obtained Amos' response to Prosor, which reads as follows:
"It is regrettable that an OCHA staff member has posted information on her personal Twitter profile, which is both false and which reflects on issues that are related to her work. The opinions expressed in her tweets in no way reflect the views of OCHA, nor has it been sanctioned by OCHA."
The tweet appears to be gone from Badawi's feed, but she reportedly has not apologized for the inaccurate tweet.
h/t JTA
Have a tip we should know? tips@mediaite.com
Josh Feldman - Senior Editor