Herman Cain: Someone Is Encouraging These Accusers Now Because I'm Doing So Well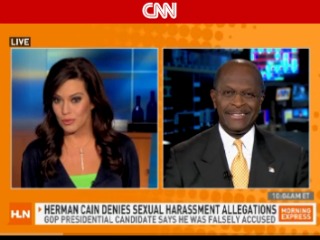 Not only is Herman Cain denying claims that he sexually harassed two former employees over a decade ago, he is also casting doubt on whether a second accusation even exists.
On Tuesday, HLN host Robin Meade looked back at how Cain has handled the allegations since news of these claims were first reported by Politico. Cain has repeatedly said he was not aware of any settlement made with his accuser, later clarifying that he had been aware that an "agreement" had been reached. Are these statements, Meade asked him, inconsistent?
RELATED: Herman Cain: Unaware Of Any Settlement Over 'Baseless' Sexual Harassment Charges
This was 12 years ago. I was falsely accused and, secondly, the word "settlement" suggested to me some sort of legal settlement. And as I recalled what happened 12 years ago, I recalled an agreement. I wasn't thinking legal settlement. And so the words have been flyspecked and I do recall an agreement. I recalled, as I thought, went through the day, that there was an agreement with this lady who made these charges and they were found be false. I have never committed sexual harassment in my entire career. Period. And it was found that nothing took place in terms of sexual harassment in this particular case.
Meade observed that Cain seems to have remembered more about the events surrounding the allegations since the story first broke. Cain responded that "this was 12 years ago," adding that he had been trying to recall all this "in the middle of an already busy planned day."
As for a second alleged instance of sexual harassment, Cain says he remembers nothing about it. "I wasn't even aware of the second case," he explained, "until we saw the Politico article." He also cast doubt on whether a second accusation even exists, and pointed out that Politico's article cited two sources who remained anonymous.
Meade then asked Cain how he followed through with the first allegation, and what conversation he had about it after turning the matter over to HR. "I did," said Cain, "but when he said the gesture with the height thing and there were a couple of other things in there that I found absolutely ridiculous…"
RELATED: Herman Cain Demonstrates The 'Non-Sexual Gesture' That Got Him In Trouble
"What were those?" Meade asked.
"I don't even remember!" said Cain. "They were so ridiculous I don't even remember what they are."
Meade seemed uncertain. "Well, you remember they were ridiculous, but you don't remember what those other things were?"
"The reason I forgot them, Robin, is because they're ridiculous."
Cain confirmed that Politico had made his office aware that two anonymous sources had claimed that Cain had been accused of sexual harassment, but that its reporters refused to provide any specific details.
When asked what, if anything, he has to say to the two women who have accused him of harassment, Cain responded with the following:
I would simply say, "Why are you bringing it up now?" Obviously someone is encouraging them to bring it up now because I'm doing so well in this Republican nomination. That's all I would say. Why are you bringing it up now? Secondly, "Are you being used to try and help paint a cloud and help sabotage my candidacy?" That's all I would say.
Have a look, via HLN:
Have a tip we should know? tips@mediaite.com