'On a Personal Level, I Kind of Like Him': Chris Wallace Talks Trump and His News Rivals in Town & Country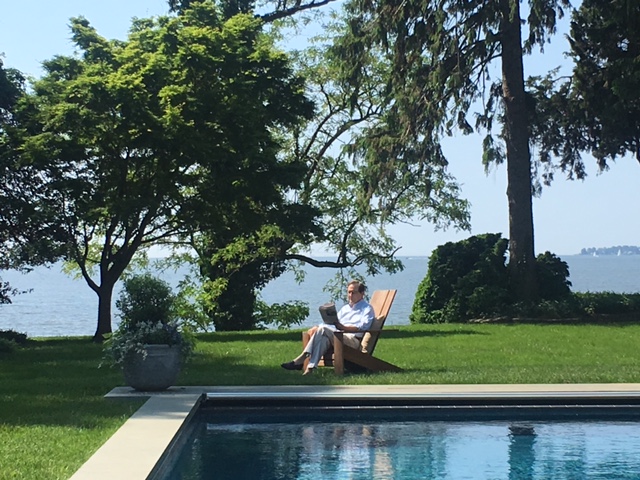 Fresh off his interview with President Donald Trump, Fox News anchor Chris Wallace was profiled in Town & Country. In the interview, Wallace's musings on the president and his news media rivals are sandwiched between shots of his bucolic Annapolis, Maryland estate and extensive family.
According to the mag, Wallace — who has hosted Fox News Sunday for 14 years — is "rankled" when his Sunday show rivals George Stephanopoulos and Chuck Todd make news with their interviews and he doesn't.
"Honestly, I think I'm better," he told Town & Country. "The only one I didn't feel that about was Tim Russert."
"I view my job as being the cop on the beat, walking around with a nightstick and trying to keep people honest—both Republicans and Democrats," Wallace said.
Town & Country also reported that Wallace was approached about taking over CBS Evening News last year (the show is helmed by Jeff Glor). He declined, and his Fox News contract extends beyond 2020, per T&C.
Wallace, who before Sunday's thriller last interviewed Trump in 2015, also told the mag that he's fond of Trump personally.
"I don't know that I've ever seen as big a difference between somebody's public and private personae as I have with President Trump," he said. "He is thoughtful, asks questions about you, and is very pleasant to be around. On a personal level, I kind of like him."
"There are things that trouble me, but I have faith in the American government and the separation of powers, and so far it seems institutions are holding," he added about the Trump administration.
Wallace is also wary of "anti-Trump hysteria": "While there are things that are going on now that disturb me, I do think there is some anti-Trump hysteria that exaggerates what's going on as well."
The profile is replete with a quote from George Clooney, who invited Wallace to his Lake Como residence in 2012.
"Obviously, he works for a network with a political point of view different from mine, but that makes no difference when you have respect for someone," Clooney said."I'm glad Chris is out there asking tough questions."
Read here.
[Photo by Tiago Molinos/Town & Country via Fox News]
Have a tip we should know? tips@mediaite.com
Aidan McLaughlin - Editor in Chief