Japanese Prison Guard Who Tortured Unbroken Hero Zamperini Was Once Interviewed by 60 Minutes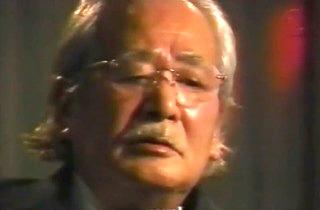 As Angelina Jolie's latest directorial project, Unbroken, continues to generate buzz for its stunning portrayal of WWII hero and prisoner of war Louis Zamperini, here's a fascinating little flashback: Back in the late '90s, 60 Minutes actually interviewed Zamperini's torturer, Japanese Army Sergeant Mutsuhiro Watanabe.
For the 1998 Winter Games in Nagano, the former POW Zamperini was set to carry the Olympic Flame torch past the prison where he was once held captive. As part of a CBS special on his achievements, the newsmagazine program tracked down his torturer for a fascinating interview that ultimately saw Watanabe refusing to apologize for his actions.
"I wasn't given military orders. Because of my own personal feelings, I treated the prisoners strictly as enemies of Japan," he told his interviewer, Bob Simon. Watanabe refused to meet with Zamperini as part of the piece.
Watanabe was known as "The Bird," and had gone into hiding during the American occupation of Japan. However, in 1952, the United States granted amnesty to Japanese war criminals, after which he emerged to become a businessman.
He died in April 2003, and Zamperini died earlier this year.
Watch below, via CBS:
— —
>> Follow Andrew Kirell (@AndrewKirell) on Twitter
Have a tip we should know? tips@mediaite.com