Mediaite Founder Dan Abrams Starts at Good Morning America By Getting His Legs Waxed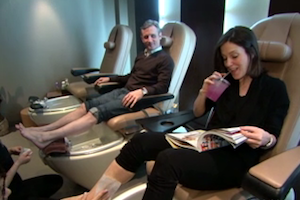 Well, Mediaite founder Dan Abrams has begun his tenure at Good Morning America today and it seemed, at first, like they were giving him a wonderful welcome. They said how glad they were to have him on the team and they even let him have a segment to talk up his new book Man Down. However, then Sharyn Alfonsi made him test out the claim in his book that women can withstand pain better by getting his legs waxed! Book promotion or morning show hazing? You be the judge!
Of course, not all of the tests were that unpleasant. Abrams got to challenge Alfonsi in an eating contest and arm wrestling match as well. We can only imagine the segment of the two of them starting competing hedge fund firms (another thing Man Down claims women are better at) got left on the cutting room floor. When back in the studio, Abrams was asked again why he chose to write the book. And, while he claimed that he did it because he read some fascinating findings on the ways women might be better than men and wanted to learn more, the segment revealed another possible reason; earning the favor of his new anchor, Robin Roberts, who seemed thrilled with the book's premise. "You keep doing stories like this and making women look good," she told him, "And you'll be good."
Of course, she seems friendly now, but this is only after what we can now presume was a long and arduous GMA hazing and brainwashing process. Getting your legs waxed is nothing compared to having to repeat the sacred ABC oaths word for word while chugging beer blindfolded and getting paddled by George Stephanopoulos.
Check out the clip from Good Morning America below:
Have a tip we should know? [email protected]