Megyn Kelly Trashes 'Disgusting Pig' Actor Jason Biggs For Tweets About Romney And Ryan Wives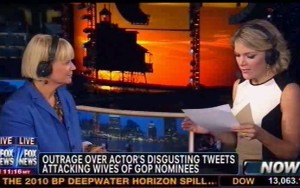 On her show Wednesday afternoon, Fox host Megyn Kelly took actor Jason Biggs to task for his lewd tweets about Janna Ryan and Ann Romney during last week's Republican National Convention. Calling Biggs a "disgusting pig," Kelly expressed disbelief that Nickelodeon would keep the actor around for his role in the kids' animated series Teenage Mutant Ninja Turtles.
Last week, Biggs' posted the following "too-disgusting-to-repeat-on-television" (as Kelly characterized them) tweets during the RNC:


The tweets generated a considerable amount of controversy not only for their content but because Biggs' current employer, children's network Nickelodeon, promoted his Twitter feed by tweeting his handle in promotion for the new show.
After several days of calls for the channel to fire Biggs, the actor deleted the tweets and Nickelodeon offered a response today:
The offensive comments made by Jason Biggs last week on his personal twitter account do not reflect our company's views or values, and we condemn them. Nickelodeon does not support or condone the use of graphic or vulgar language on any of our platforms. It was our mistake to link from our Teenage Mutant Ninja Turtles twitter feed to Jason's personal twitter account, and we quickly corrected our error. We also insisted Jason use better judgment and discretion in public communications while affiliated with our brand.
Kelly found this apology unsatisfying. "Does that do it? It's not like he made one comment that he can dial back," she said.
"Call it 'sexist,' call it what it is," guest Sam Bennett replied, saying that Romney and Ryan should both respond and assert their disgust with these tweets.
"It's the most disgusting thing I've read in a long time," Kelly concluded.
Watch the segment below, via Fox News:
— —
>> Follow Andrew Kirell (@AndrewKirell) on Twitter
Have a tip we should know? tips@mediaite.com