Melissa Rivers Takes Joan Rivers' Fashion Police Spot Following Kathy Griffin Exit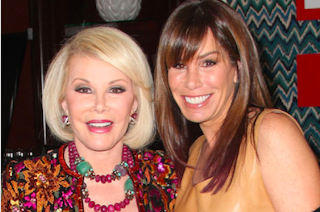 Melissa Rivers will be stepping into her late mother's shoes on Fashion Police when it returns to E! on August 31 to cover the MTV Video Music Awards. The move comes after comedian Kathy Griffin initially replaced Joan Rivers on the show earlier this year before abruptly leaving it less than two months later.
In addition to Melissa Rivers, who will continue to executive produce the show, Giuliana Rancic and Brad Goreski will reportedly stay on as co-hosts, with two spots left open for rotating celebrity guest commentators.
Jeff Olde, executive vice president of programming and development for E!, gave the following statement to Variety:
"As an executive producer since the beginning, Melissa helped shape 'Fashion Police' into an iconic TV series that couples fashion with comedy. We are pleased to now also feature Melissa in front of the 'Fashion Police' cameras, as she joins returning panelists Giuliana and Brad. And with the added flavor of rotating panelists, the show will deliver fresh, different and unpredictable fashion reviews with each new episode."
The problems at the show began soon after Joan Rivers' death and came to a head after Rancic was forced to apologize for making a comment that Disney Channel star Zendaya described as an "ignorant slur" about her hair. It was that incident, at least in part, that spurred both Kelly Osbourne and then Griffin to quit the project.
In her statement at the time, Griffin explained, "I do not want to use my comedy to contribute to a culture of unattainable perfectionism and intolerance towards difference." Later, she told Howard Stern that she never should have taken the gig in the first place.
In her producer role, Melissa Rivers has never quite embodied the outrageous on-screen persona of her mother, often playing the "straight man" on their reality show, Joan & Melissa: Joan Knows Best? But more recently, she showed she's willing to get combative if need be when she told the Today show's Hoda Kotb that her biggest complaint about Griffin "was the feeling that she kind of shit all over my mother's legacy" when she left she show.
[Photo via E!]
— —
>> Follow Matt Wilstein (@TheMattWilstein) on Twitter
Have a tip we should know? tips@mediaite.com