Michelle Malkin: Obama's Gay Marriage Endorsement A 'Campaign Finance Decision'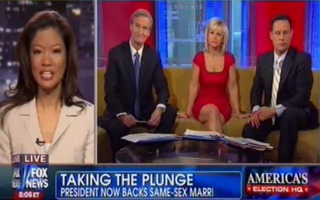 Conservative columnist Michelle Malkin appeared on Fox & Friends on Thursday where she addressed an interview President Barack Obama gave with ABC News in which he expressed his support for the concept of gay marriage. Malkin said that Obama's transition was less political and more of a "campaign finance decision" as wealthy progressive donors had been holding out on giving to Obama's reelection campaign because of his prior reluctance to embrace same-sex marriage.

RELATED: The Five Hosts Take On President Obama's New Gay Marriage Stance
The Fox & Friends hosts first played a clip of Obama's interview with ABC and noted that most states have some prohibition of gay marriage on the books.
Malkin pointed out that of the 32 states that have constitutional bans on gay marriage, 7 were states that President Obama won in 2008 and are expected to be contested battleground states this cycle. She said that, while on its face it is unclear why Obama embraced gay marriage now, it becomes clear when you see how much cash-on-hand the Obama campaign has available.
"It's not so much that this is a politically or electorally driven decision by the President, as it is a campaign finance decision," said Malkin. "There are wealthy progressive donors that have not been happy with the President hedging around this issue. The wanted more…"
"Evolving," interjected co-host Brian Kilmeade.
"Yes," said Malkin. "He doesn't evolve so much as he transmogrifies."
Malkin went over Obama's changing opinions on gay marriage and said that since 1996, his views have changed only when it was politically beneficial.
"'96, he was for it. 2004, after he lost his state senate seat and was trying to get it back, he was against it. And now he's found religion again," said Malkin.
Co-Host Gretchen Carlson asked Malkin if the voters were savvy enough to see through what they believe is a political move by Obama in embracing gay marriage. "In that interview that he gave, he touched on every possible political group that might be effected by this. He talked about troops, he talked about Christians, he talked about how this decision related to all those voting blocks," Carlson asked.
"In the same way he accuses Mitt Romney of being an Etch a Sketch, he is like Silly Putty," said Malkin. "You can stretch him out so he'll cover every single group, roll him up and bounce him off the wall so he'll hit every single one."
Kilmeade brought up that Vice President Joe Biden had moved the President's timeline on this issue up several months when he said he supported gay marriage in an interview on NBC's Meet the Press. Malkin said that, again, this is not good for the President.
"Once again, he's leading from behind rather than forward is the impression that leaves with the general public," said Malkin. She said that the public sees a politician with no core principles.
Watch the segment below via Fox News Channel:
Have a tip we should know? tips@mediaite.com