MSNBC Panel Concedes Prosecution's Case Is Weak, 'Little Hope' Zimmerman Will Be Convicted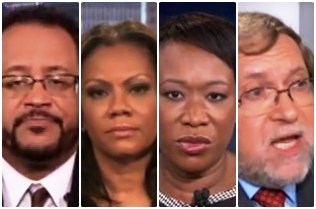 During MSNBC's Martin Bashir on Tuesday, the entire panel of contributors and guests conceded that the prosecution has done a poor job of framing George Zimmerman as being guilty of second degree murder when he shot and killed Tryavon Martin in 2012. One guest noted that, given the weakness of the evidence presented against Zimmerman thus far, the state would likely be wrapping up the prosecution phase soon.

John Jay College forensics professor Lawrence Kobilinsky told Joy-Ann Reid that the evidence thus far presented against Zimmerman is insufficient to prove second degree murder.
"What I'm hearing is the state's case is getting weaker and weaker as every day goes by," he said. "I think they're going to be wrapping up pretty soon."
"I have to agree with the people who spoke before me," said MSNBC contributor Goldie Taylor after dismissing the prosecution's effort to frame Zimmerman as delusional. "Even though I've got some problems with George Zimmerman's testimony – even though I have a problem with how it seems to not jive with the physical evidence we've heard so far — that I think the prosecution has got to put on a much stronger case."
Georgetown University Professor Michael Eric Dyson agreed. "I don't think there is much expectation that Mr. Zimmerman will be found guilty," he said. "I think that there are mass people invested in this case because their children are vulnerable like Trayvon Martin feel that he is being re-traumatized and that there is little hope he will be convicted."
Watch the clip below via MSNBC:
> >Follow Noah Rothman (@NoahCRothman) on Twitter
Have a tip we should know? tips@mediaite.com