Drone Strikes Kill Ten Times More Civilians Than Manned Aircraft, New Study Says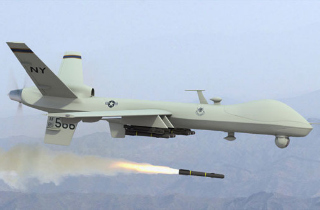 Despite drone proponents' assertions that drones are more precise and thus less likely to cause civilian casualties, a new study finds that the unmanned strikes killed ten times more Afghani civilians than manned aircraft.
The study was conducted by U.S. military advisors Larry Lewis from the Center for Naval Analyses and Sarah Holewinsk of the Center for Civilians in Conflict. The pair studied air strikes in Afghanistan from mid-2010 to mid-2011 — regarded as one of the heightened periods of the air warfare in the region — using classified military information for research on the civilian casualties caused by the attacks. Through their analysis, according to The Guardian, Lewis and Holewinsk found that "the missile strikes conducted by remotely piloted aircraft, commonly known as drones, were 10 times more deadly to Afghan civilians than those performed by fighter jets."
The findings come despite the predominant mentality that drone strikes are less deadly — a position advanced by Preisdent Obama during a foreign policy speech in May, in which he claimed that "conventional airpower or missiles are far less precise than drones, and likely to cause more civilian casualties and local outrage."
Holewinsk told The Guardian that the results may demonstrate the fighter pilots are being given more rigorous training to avoid killing civilians during strikes:
"These findings show us that it's not about the technology, it's about how the technology is used. Drones aren't magically better at avoiding civilians than fighter jets. When pilots flying jets were given clear directives and training on civilian protection, they were able to lower civilian casualty rates."
Full report here.
[h/t Reason]
Have a tip we should know? [email protected]