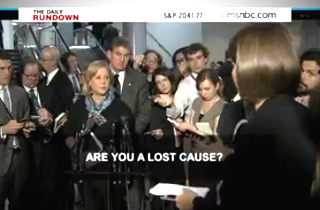 MSNBC apparently has the same feeling about Sen. Mary Landrieu (D-LA) as the Democratic Senatorial Campaign Committee, which recently pulled money and ads from her runoff campaign against a Republican challenger.
During a press conference with Landrieu, who's been vocally supportive of the Keystone XL pipeline proposal and spoke for three hours attempting to get the Senate to vote on it, political correspondent Kasie Hunt pointed out that she'd recently lost her campaign dollars and that Democrat leaders were reticent to allow a vote on the controversial project. "Your leaders are not standing with you today. Are you a lost cause?" Hunt asked bluntly.
"I don't believe I am," Landrieu responded. "Of course I've stood against my leadership when I've had to, and this is one of those times."
Hunt speculated that Landrieu, who's polling behind GOP challenger Rep. Bill Cassidy (R-LA), was trying to reach out to her electorate before her runoff election in a month, and believes that approving the Keystone XL pipeline could increase her chances at reelection. "It's possible she could end up with an electorate that is different than the one we saw earlier this month," Hunt noted. "On the other hand, the number of black voters in Louisiana has been declining, so I think she finds herself in a tougher position than before."
Landrieu faces an uphill battle: The Canadian Energy Research Institute, whose work is often cited by supporters of the pipeline, released a damning report recently saying that the project would actually lose money and that the price of crude oil could not justify its expense.
Watch below via MSNBC:
[Image via screenshot]
—
>> Follow Tina Nguyen (@Tina_Nguyen) on Twitter
Have a tip we should know? tips@mediaite.com