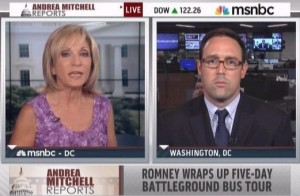 Score a victory for the mainstream press over right-wing pressure. MSNBC's Andrea Mitchell addressed the mini-controversy that sprang up around the editing of a 30-second clip package on Mitt Romney's weekend visit to "Wawa's," which right-wing bloggers called "deceptive."
Mitchell noted that the RNC and the Romney campaign had reached out, but she notably did not apologize before playing some more of Romney's remarks.
"There has been a lot of discussion overnight about a conversation you and I had yesterday," Mitchell said to contributor Chris Cillizza. "We ran clips of Mitt Romney in Cornwall, Pennsylvania, talking about his trip to a Wawa. The RNC and the Campaign both reached out to us, saying Romney had more to say about that visit, about federal bureaucracy and innovation in the private sector."
"We didn't get a chance to play that, so here it is now," she concluded.
That was it, no apology, and from the sounds of it, neither the RNC nor the Romney campaign even asked for one. As I wrote earlier, even though journalists would always prefer to use more of what someone says, rather than less, the edits MSNBC did were transparent and permissible. In fact, Mitchell did Romney another favor by not mentioning that his story to the crowd was a big, fat lie. Romney told the crowd that an optometrist complained to him about a 33-page change of address form for Medicaid. He only missed it by 31 pages. The form he compared to the sandwich computers at "Wawa's" is two pages long, four if you include the instructions.
Let that be a lesson to mainstream journalists who jump to kill the right-wing noise whenever they don't think a report is sufficiently biased in their guy's favor. Sometimes, noise is just noise.
Here's the clip, which also features a funny moment at the end where the clip Mitchell is tossing to doesn't make it onscreen:
Update: MSNBC issued the following statement regarding Andrea Mitchell's Monday reporting on Mitt Romney's Wawa remarks:
"MSNBC did not edit anything out of order or out of sequence and at no time did we intend to deceive our viewers."
Update 2: Fox News' Brett Baier reports on the Andrea Mitchell controversy, but also on Romney's bogus Medicaid story:
Follow Tommy Christopher (@TommyXtopher) on Twitter.
Have a tip we should know? tips@mediaite.com