Now Rand Paul Thinks It's OK To Kill U.S. Citizens With Drones On American Soil?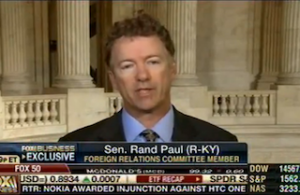 Remember when Sen. Rand Paul (R-KY) stood up on the Senate floor for nearly 13 hours in an ideological protest of the Obama administration's hypothetical authority to use drone technology to kill U.S. citizens on American soil? Well, now he's saying killing a certain U.S. citizen on some specific American soil in Watertown, Massachusetts last Friday may not have been the worst thing in the world.
During an interview with Neil Cavuto on Fox Business Network Monday night, Paul attempted to make a distinction between the American "sitting in a café" example he has often cited and the "imminent threat" faced by Boston bombing suspect Dzhokhar Tsarnaev Friday night. "I've never argued against any technology being used when you have an imminent threat, an active crime going on," Paul said. Though his next example offered up a disturbingly low bar for the predator drone option. "If someone comes out of a liquor store with a weapon and fifty dollars in cash," he said, "I don't care if a drone kills him or a policeman kills him."
"It's different," Paul continued, "if they want to come fly over your hot tub or your yard
just because they want to do surveillance on everyone and watch your activities." But again, he added, "if there's killer on the loose in a neighborhood, I'm not against drones being used."
Paul's comments in light of the Boston suspect's arrest are a far cry from his staunchly anti-drone stance just last month. At the very beginning of his filibuster, Paul delivered the words below, which appear to directly contradict his statements from last night.
"I will speak as long as it takes, until the alarm is sounded from coast to coast that our Constitution is important, that your rights to trial by jury are precious, that no American should be killed by a drone on American soil without first being charged with a crime, without first being found to be guilty by a court."
The purpose of the filibuster was to put pressure on Attorney General Eric Holder and the CIA's John Brennan to renounce the idea of using drones to kill American citizens. During the Boston investigation last week, the Obama administration along with the FBI made a very deliberate choice to capture the younger suspect alive. Not only because that is the lawful thing to do with a suspect who, however dangerous, is not resisting arrest, but also because preserving the ability to question him will give the country to best chance at finding answers as to why he and his brother committed the attack.
Up until the interview last night, Paul had been remarkably silent about the Tsarnaev case, making no attempts to stand up for the rights of this American citizen, no matter how heinous his crimes were. The only public move he did make was to petition Senate Majority Leader Harry Reid to delay the immigration debate until after the Boston hearings. "The facts emerging in the Boston Marathon bombing have exposed a weakness in our current system," Paul wrote. "If we don't use this debate as an opportunity to fix flaws in our current system, flaws made even more evident last week, then we will not be doing our jobs."
In the same interview with Cavuto last night, Paul did stand against his frequent Senate opposition, Republican Senators Lindsey Graham and John McCain to say he agreed with the administration's decision not to try Tsarnaev as an enemy combatant. But by indicating he would have made the call to kill the suspect with drone if he'd had the chance, Paul seems to have betrayed the principles of his filibuster.
UPDATE: Sen. Paul has issued the following statement
"My comments last night left the mistaken impression that my position on drones had changed.

"Let me be clear: it has not. Armed drones should not be used in normal crime situations. They only may only be considered in extraordinary, lethal situations where there is an ongoing, imminent threat. I described that scenario previously during my Senate filibuster.

"Additionally, surveillance drones should only be used with warrants and specific targets.

"Fighting terrorism and capturing terrorists must be done while preserving our constitutional protections. This was demonstrated last week in Boston. As we all seek to prevent future tragedies, we must continue to bear this in mind."
Watch video below, via Fox Business Network:
—
>> Follow Matt Wilstein (@TheMattWilstein) on Twitter
Have a tip we should know? tips@mediaite.com