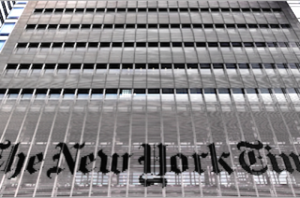 The New York Times is pushing back against Fox Business Network for a report they ran on Wednesday morning claiming New York City Mayor Bill de Blasio and his top aides urged the mayor's political allies to take to the media and "blast the police officers" who turned their backs to de Blasio on two separate occasions. The Times, according to correspondent David Asman, is the main culprit because they ran editorials this week that "kowtowed" to the mayor's request.
And per CNN Money reporter Tom Kludt, the Times' head of communications Eileen Murphy called Asman's reporting "ludicrous."
The Times ran an editorial on Wednesday that blasted the NYPD for its apparent slowdown and urged Commissioner Bill Bratton to "hold his commanders and supervisors responsible, and turn this insubordination around." In addition, a Tuesday editorial went after the department for what it called a "snarling sense of victimhood." Asman called these editorials "atrocious."
"We couldn't really understand how they could say something like this, but now we know why," Asman said. "Because they were taking orders from the mayor's office."
He continued to blast the Times for "bowing to authority" and "denigrating" police officers.
"You'd expect NPR to take their talking points from authority, not the New York Times," Asman added.
On Tuesday, de Blasio met with police union heads in an attempt to repair a severely strained relationship, but those talks reportedly yielded no progress.
Watch Fox Business's report below:
[Image via Wikimedia Commons]
— —
>>Follow Andrew Desiderio (@forza_desiderio) on Twitter
Have a tip we should know? tips@mediaite.com