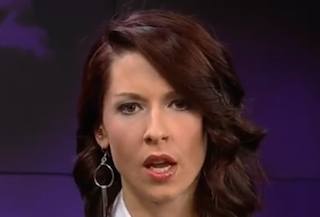 Abby Martin became something of an internet folk hero Monday after she publicly condemned Vladimir Putin's military intervention into Ukraine on her Kremlin-backed, English-language RT program Breaking the Set. Declaring her "editorial independence" from the Russian regime, she said into the camera: "What Russia did is wrong."
As it turns out, Martin is also an avid 9/11 Truther conspiracy theorist. The New York Times' Robert Mackey outed Martin on The Lede blog Tuesday afternoon, revealing her role in the "9/11 Truth movement, whose members hold that the official history of the terrorist attacks is a cover for a concealed government conspiracy."
In his post, Mackey includes the below video of Martin discussing her views while marching in a 9/11 Truth demonstration in Santa Monica, California on October 11, 2008. "I've researched it for three years and every single thing that I uncover solidifies my belief that it was an inside job and that our government was complicit in what happened."
In addition to that her presence at that march, Martin has also reported on the idea of staged "false flag" attacks on her RT show. And last year, she went after MSNBC's Rachel Maddow for tying the Boston Marathon bombing suspects to the 9/11 Truth movement.
Martin has also expressed her 9/11 conspiracy theory views through art. Ex-Gawker editor Neetzan Zimmerman tweeted an image below, titled "Killing Hope," which appeared on 911Blogger.com: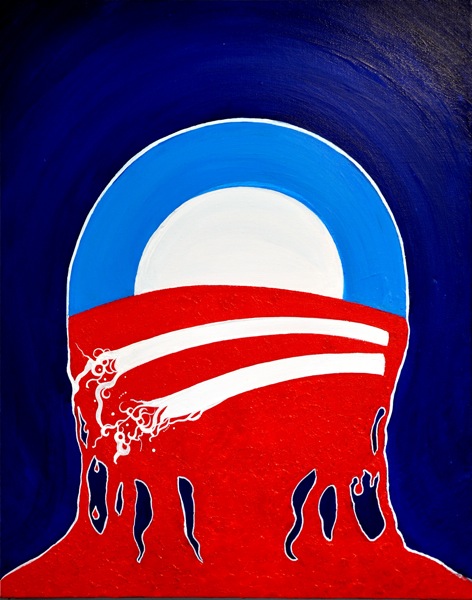 So far, Martin's comments about Ukraine have not been denounced by her employer as some may have expected, though they have sent her to Crimea to allow her to "make up her mind" on the issue.
While the video of her report has not appeared on the network's official YouTube channel, they did evidently choose to retweet Glenn Greenwald's article praising her statements.
Watch Martin's full comments on Ukraine below, via RT:
[photo via screengrab]
— —
>> Follow Matt Wilstein (@TheMattWilstein) on Twitter
Have a tip we should know? tips@mediaite.com