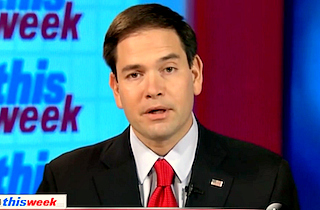 The Rand Paul/Marco Rubio shade war continued Sunday morning, when Senator Rubio (R-FL) basically said that if Senator Paul (R-KY) likes Obama's Cuban policy so much he should marry it.
"If he wants to become the chief cheerleader of Obama's foreign policy, he certainly has a right to do that," Rubio said on This Week. "I'll continue to oppose the Obama foreign policy on Cuba because I know it won't lead to freedom and liberty for the Cuban people, which is my sole interest here."
Paul and Rubio mixed it up this week after they came out on different sides of Obama's surprise détente with Cuba. Rubio has been the most vocal opponent of Obama's normalization of relations with the Castro-run island country, while Paul has suggested this was tantamount to isolationism.
Host George Stephanopoulos asked Rubio he would support Paul if he became the GOP's 2016 nominee.
"I anticipate supporting whoever the Republican nominee is and I'm pretty confident that the Republican nominee for president will be someone who has a pretty forceful view of America's role in the world as a defender of democracy and freedom," Rubio replied.
UPDATE — 5:34 p.m. ET: A statement from Sen. Paul's senior advisor, Doug Stafford:
With all due respect, Senator Marco Rubio was captain of the GOP cheerleading team for Obama's arming of Syrian rebels, bombing Libya resulting in a jihadist wonderland, and illegally giving foreign aid to Egypt's military government. The Rubio-Obama foreign policy has made the Middle East and North Africa less safe.
Watch the clip below, via ABC News:
[Image via screengrab]
——
>> Follow Evan McMurry (@evanmcmurry) on Twitter
Have a tip we should know? tips@mediaite.com